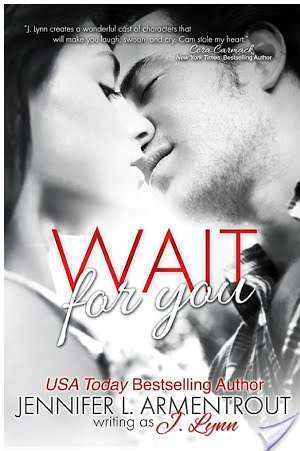 Wait for You

by J. Lynn
Series: Wait for You #1
Published by Harper Collins on April 2nd 2013
Genres: Coming of Age, Contemporary, Contemporary Women, Fiction, New Adult, Romance
Pages: 384
Source: Bought
Goodreads


The #1 New York Times and USA Today bestselling phenomenonSome things are worth waiting for . . . Traveling thousands of miles from home to enter college is the only way nineteen-year-old Avery Morgansten can escape what happened at that fateful Halloween party five years ago—an event that forever changed her life. What she never planned on was capturing the attention of the one guy who could shatter the precarious future she's building for herself.Some things are worth experiencing . . . Cameron Hamilton is six feet, three inches of swoon-worthy hotness, com-plete with a pair of striking blue eyes and a remarkable ability to make Avery want things she believed had been irrevocably stolen from her. Getting involved with him is dangerous. Yet ignoring the simmering tension that sparks between them—and brings out a side of her she never knew existed—is impossible.Some things shouldn't be kept quiet . . . But when Avery starts receiving threatening e-mails and phone calls, she's forced to face a past she wants to keep buried and acknowledge that someone is refusing to allow her to let go of that night when everything changed. If the devastating truth comes out, will she resurface with one less scar? And will Cam be there to help her?And some things are worth fighting for . . .
I loved Jennifer Armentrout's Lux and Covenant series and Wait for You did not disappoint.
My Rating:  
I picked up Wait For You when I saw it at the #1 spot on Amazon's Top 100 list. I got it in preparation for my upcoming spring break and, hey, it was only 99 cents.
I started it before going to bed and the next thing I knew it's 4:30 in the morning! This was my first foray into the New Adult genre and it had me absolutely and irrevocably hooked. Jennifer Armentrout, writing as J. Lynn, has writing that is witty, wonderful and oh-so-addicting.
Avery is a freshman in college, trying to escape her past. She has a plan and it involves keeping her head down and getting through it day by day, by herself. Oh, but Cameron Hamilton is so not going to let her go through with that plan.
Which brings me to the man with eyes "so blue they look fake". Oh, Cam. From the day Avery literally smacks into him, he keeps showing up, offering his dimpled smile and baked goodies (and trust me when I say you want his cookies). He had me grinning like an idiot at my Kindle and I'm pretty sure he just clinched the top spot on my book boyfriend list! He is sweet, fiercely loyal, funny, and beyond cocky and attempts to be the one to get Avery to open up and come to grips with her past. And honestly, who could resist? Well, Avery could. Or at least she tries to for the first part of the book.
This book sucked me in and held me there and made me feel like I was back in college. The classes, the situations, the interactions – I felt like I was a part of everything and I was emotionally invested in all that they went through.
I loved Avery and I rooted for her to overcome things she never should have had to experience and I rooted for her and Cam. Her two friends, Brit and Jacob are simply hilarious and had me laughing out loud. They balanced the tone of the book. They are frank and unabashed when they tease Avery, just as two best friends should be. And did I mention Cam's hot friends, Ollie and Jace? Who knew West Virginia could be hiding all these hot boys?
My love for Cam goes without saying. I could gush about him for hours on end! There's something you don't find out about him until the latter half of the book and that provided another interesting facet to the story, and made me love him even more, if that's possible.
My favorite secondary character (and yes, I'm calling him a secondary character), is Raphael. I wouldn't be surprised if there was a spike in tortoise pet sales after the release of this book!
The relationship between Cam and Avery flowed with seamless effort and progressed at just the right pace. Everything seemed natural and real and nothing was forced. I have a big thing against insta-love and this was anything but. Things took time to develop; they text, banter and laugh and you fall in love with them.
Cam will steal your heart and as Avery so very well puts it: "He had me at sweetheart."
And the best part? Jennifer Armentrout has signed a three book deal with HarperCollins which means that Wait for You will be in print (publication date: Sept. 3, 2013) AND there will be two more books. Yes!!!
The second book is titled Be With Me and does not yet have a publication date. It will feature Cam's sister Teresa, and Jace's story. Needless to say, it's already in my TBR list and I can't wait!
Related Posts