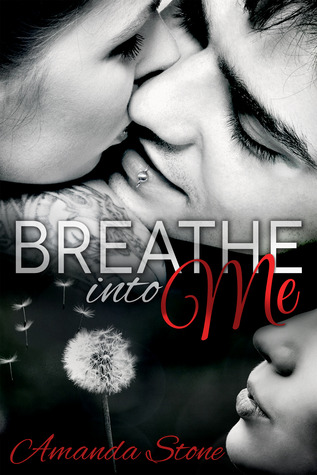 Breathe Into Me

by Amanda Stone
Published by CreateSpace Independent Publishing Platform on May 7th 2013
Genres: Contemporary, New Adult
Pages: 298
Format: eBook
Source: Bought
Goodreads


USA Today Bestselling BookEighteen year-old Kelsey Rien is more than ready to leave her past behind her.Wanting nothing more than to walk into a room without everyone knowing the horrific details of an event that changed her life six years ago, she vows to concentrate on school and make something of herself.But then she meets Kane Riley - the local bad boy. Kane's reputation is far from perfect, but is there more to him than what everyone else sees?Kelsey soon learns that you can't run from your past, no matter how hard you try. When her nightmares find her once again, Kelsey must find the courage to face the demons that have been haunting her and save the people she loves most.
My rating: 
Alright, so the storyline is pretty typical to a lot of NA novels out there. You have the girl escaping from something terrible from her past, a tattooed bad boy and then they fall in love. Even though this type of plot is used quite a bit, I still enjoy reading it because it's kind of addicting and some have been done really well (for example: Easy by Tammara Webber and Charade by Nyrae Dawn).
However, I had a few problems with this one. I would have still given it 4 stars despite the problems but then the ending happened. I'll get to that.
So first, you have Kelsey, who has experienced something horrendous six years ago—it's so awful she hasn't told a single soul. Only her best friend Jessi knows and that's only because they were best friends when it happened. And here's problem #1: She meets Kane, described as a hot, tattooed bad boy and after a week of some interactions, it is somehow supposed to be believable that she now trusts him so completely that she tells him everything. Granted, Kane had opened up to her first (begging the question, wait, he trusts her enough too?) but she's been holding onto this for six years. That seemed a stretch to me. I don't really like insta-love situations and this was basically that. Everything just happens all of a sudden and they're crazy in love and I couldn't buy it.
Secondly, Kane is not actually a bad boy! Yes, he has tattoos and piercings and he has a past reputation but that's it. For all intents and purposes, he was the nicest, sweetest guy ever. We're just told he was bad and he had changed but since he's already a changed man, we miss out on that character development.
Thirdly… There's this weird hate going on between Kane and Nate, a secondary character, and it's built up every single time they come into contact with each other. However, never once was this explained. So that was a little odd. I mean, Kane has this tremendous animosity toward Nate and I kept expecting Kelsey to ask, or Kane to explain or something to come of it, and I waited for it. But nothing happens. It's kind of just never addressed again. I guess I'm curious why it was built up so much if she didn't intend on doing something with it.
So all of this taken into consideration, I still liked it enough to give it 4 stars. I really liked Kane! I can overlook the insta-love (a little) and I mean, there were parts that made me smile. Kane's Maw and Paw were awesome. Those two were probably my favorite characters in the whole book and we only saw them for a little part. They were just so funny, insightful and genuine! You had to love them.
But then the ending. Oh my God. I literally was staring at my Kindle, muttering "what??" Now, I'm not going to spoil it but some crazy things go down and what I could NOT get over, and what makes me bump it down a star is the fact that I wanted to throw punches at everyone. They start doing very uncharacteristic things (especially one person in particular) and it was just so out of the blue!
Now, I realize that Breathe Into Me has gotten very good reviews from Amazon and Goodreads so, clearly many, many people still liked it. You should check it out if you think you'll still enjoy it despite what I've mentioned.
Have you read this? Leave a comment and tell me what you think!
Related Posts