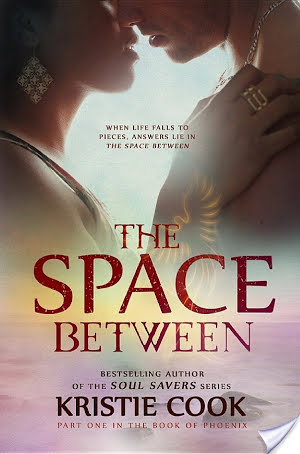 The Space Between

by Kristie Cook
Published by Ang'dora Productions, LLC on November 28th 2013
Genres: Contemporary, Fantasy, Fiction, New Adult, Paranormal, Romance
Pages: 408
Goodreads


After a month-long dance tour overseas, Leni returns to Georgia to care for her great-uncle, only to find him gone, their home empty, and any evidence he ever existed wiped out. All that remains is her truck and a leather-bound book she can't open. Nearly as disturbing, she keeps running into the deaf and dangerously sexy model she'd met in Italy, and no matter how hard she tries to shake him, her soul won't let her.   Jeric has traveled the world in search of a piece of his past for over a year, only to reach a dead-end in Georgia … in the exact town where the beautiful dancer from Italy lives. He's drawn to her like a moth to a flame, but his life as a loner in his silent world allows no room for girlfriends, and he tries to leave her. Except outside forces won't let him.   When the same "tattoos" suddenly appear on their arms and the book's lock falls open, Leni and Jeric realize there's more between them than physical fascination. They must embark on a journey together to discover their connection to each other and their ties to the Book of Phoenix.   And they must figure it all out fast. Shadowy forms that are more monsters than men are closing in, while their own existences are crumbling around them.
The Space Between is the first book in Kristie Cook's new paranormal series. I wasn't really sure what to expect at first because the summary gives you the impression of a girl-reforms-bad-boy love story but it's also paranormal. This intrigued me. And the book was completely different than what I thought it would be and it was so good!
My Rating: 
Sounds intriguing, right? The Space Between alternates between different POVs but the "main" voice so to speak is Leni. She starts off in Italy, on her last night and performance in a dance tour. It's here that she meets Jeric and keeps running into him. Leni is undeniably attracted to Jeric (an international underwear model!) but has more pressing matters to worry about — her uncle is gone. And there's NO record of him anywhere.
Jeric is also searching for answers about his family and they keep running into each other. But it's definitely not your typical fall-in-love story because both keep hearing dyad in their head when they touch and mysterious flame tattoos have sprung up on both their wrists.
This was definitely a page turner because as things got crazier and more mysterious I just wanted to know WHY and HOW and what's going on?? I mean, if I had been in Leni's place, I really would've been freaking out.
I think Kristie Cook did an amazing job fleshing out these characters. They aren't perfect people. Leni has incredible strength but you can also see what her insecurities are. She grows so much that actually, now that I'm thinking about how she was in the beginning, I'm surprised by how much she grows! Then there's Jeric. He has had a tough life growing up and as a result, he shoulders blame on himself way too easily. I just want to hug him. He has a cavalier playboy attitude that at first makes you kind of mad at him. But despite the initial image, he grows and he shows incredible ability to love and fight and protect. Jeric and Leni's interactions are just simply amazing! At first I was nervous it was going to be fall-in-love-at-first-sight but it's so far from that! I love it when they're together! This takes the meaning of "soul mates" to a whole different level and it's awesome.
The characters in the book are really what make it good, especially because plot wise, it was a little slow in the beginning. I think it's because this is the first book in a series and some set up was needed but there were some parts that did get pretty repetitive. If you've read it, you'll know what I mean. On one hand, the redundancy is kind of necessary because of the plot points but on another hand, it did make the first half a little too slow for me.
Once the action started, the pace picks up. The Shadowmen are quite creepy and I thought the action scenes of Leni and Jeric fighting them were really well written! Seriously, it was like I was watching it happen in a movie. I really liked Cook's writing style and I liked the different POV format. Sometimes different POVs can get annoying because you get caught up in one story line and then you have to enter into another but everything flowed together really nicely. I loved being able to be in different characters' heads!
My other complaint is that it seemed like we set everything up and built up this whole premise and you're kind of waiting at the edge of your seat… but then it ends. Once again, it is the first novel in the series so I get that there needed to be a good foundation but I just wanted more at the end. Or maybe it's just because I really want to read more about Jeric and Leni and can't wait for the next book! So, it definitely gets you hooked into the series!
Overall, Cook spins romance and paranormal together very well and I'm looking forward to her next installment!
Have you read The Space Between? What did you think? Just how much did you love Jeric? Leave a comment and tell me your thoughts!
Related Posts