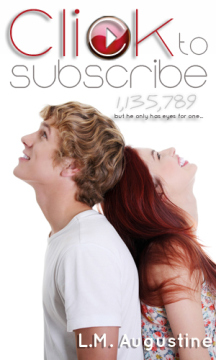 Click to Subscribe

by L. M. Augustine
Published by CreateSpace Independent Publishing Platform on 2013-06
Genres: Coming of Age, Fiction
Pages: 318
Goodreads


135,789. That's how many subscribers sixteen-year-old West Ryder has on his web vlog series. But he only has eyes for one of them. As one of the internet's most prestigious video bloggers, West talks about high school relationships under the name "Sam Green." As far as he knows, no one from school, not even his best friend, Cat, has seen his videos. But the highlight of the whole thing is Harper Knight, who comments every day at exactly 2:02 in the afternoon. He doesn't know anything about her aside from the occasional deep philosophical messaging on why pizza tastes so delicious, but as stupid as it sounds, he might be falling for her. So when they finally agree to meet in real life, West's hope for romance seems more and more in reach. But that all changes as soon as he arrives at their meeting spot and sees Cat walking toward him, wearing the same "I
After reading the blurb for Click to Subscribe, the debut novel of L.M. Augustine, I knew I had to read it. It is about a 16 year old boy, West Ryder, who pours his thoughts and feelings into video form on his vlog. No one else in real life knows about his vlog and he likes it that way. As a blogger, I can definitely relate to the feeling that I can write into the annals of the Internet and express myself and be completely honest. There's a real freedom to that.
Anyway. West falls in love with a girl who comments on his vlog and they email and chat with each other and it's really really cute. I loved their banter, jokes and overall nerdiness in their emails because, hey, I'm a bit of a nerd myself. So, when he finally meets this girl and it turns out to be his best friend Cat, it gets a little awkward. Let's just say, he kind of freaks out a little. Totally understandable.
The book explores the concept of best-friend to girlfriend and all the risks and nuances that come with it. It takes you on West's journey as he discovers what exactly love is and how to deal with it. And while I expected it to be a cute young adult romance (which it 100% was), there was also an emotional level I didn't expect. West's mother had died 6 months before, and this figures a lot into who he is and how he reacts to life. Unexpectedly, I found myself getting teary at some parts. West's feelings of loss and grief and emptiness were so real that you feel like you feel it too. I love when a book can grab you like that and get you emotionally attached.
It is mostly a light hearted read though and very sweet. There were some parts where I feel like the scenes skipped — one minute he's going to school, the next I realize he's home already? These quick transitions made it feel a little jumpy at parts. Great quick summer read though!
My rating: 
Have you guys checked out this new YA book? What did you think about West and Cat? Did you have as much of a hankering for ice cream as I did after reading? Drop a comment and let me hear your thoughts!
Related Posts