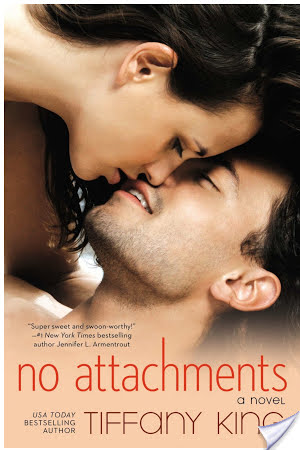 No Attachments

by Tiffany King
Published by Penguin on October 22nd 2013
Genres: Contemporary, Fiction, General, New Adult, Romance
Pages: 304
Format: eBook
Goodreads


Ashton Garrison walked away from her current life to escape the one thing she's unwilling to face. She knows her decision may be selfish, but in the end, leaving will be far less painful for everyone. Now she has one goal: live life to the fullest with no regrets and no attachments. What Ashton doesn't count on is how fate always seems to find a way to screw up any good plan. Nathan Lockton specializes in locating a mark. He's done it over and over again—no attachments and no emotion necessary. What he thought was a routine lost-and-found job has forced Nathan to deal with something he has always ignored—his feelings. He's never fallen for a target, yet he's never met anyone like Ashton. Now deep in a dilemma, Nathan must decide to follow his heart, or complete the job he was hired to do. Love can come when you least expect it. The question is: If the odds are stacked against you, how far are you willing to go for the one you love?
Oh my gosh. I don't even know where to begin because I absolutely loved No Attachments!
Alright. The novel takes place in a small town and when you first meet Ashton Garrison, she is trying to fulfill the "have a one night stand with a random stranger" item on her list. She meets Nathan Lockton at the only bar in the tiny town of Woodfalls and becomes enraptured with his deep, sexy voice. However, her item remains uncrossed on her list as she passes out before making it out of the bar. And then you realize that Nathan's not in this quiet little town just because and neither is Ashton. Nathan is there on a job and Ashton is running away from something.
Both keeping secrets, they decide on a "no attachments" deal in order to satiate their attraction to each other. Can't be too hard, right?
"Darling, I'm not going to lie. I'm going to enjoy riding that bike probably more than any other bike I've ever ridden, but I won't fall in love with it […]" – Nathan.
Nathan and Ashton's raw, physical attraction practically leaps off the pages. It was super hot and it had nothing to do with the fact the weather had hit 100 degrees here today. They become slightly inseparable and embark on some adventures in the effort to cross things off Ashton's list of things she wants to do. At this point, I'm still trying to figure out what their secrets are but really, I'm just enjoying the ride of seeing Nathan and Ashton together (no pun intended). The story-line was relatively typical and then WHAM. Things start clicking into place and you realize that this isn't just another contemporary romance.
And then you reach for some tissues, forgo dinner and keep reading because oh-my-God-oh-my-God must finish the book!! That's exactly what I did and those that know me know that postponing food when I'm hungry is kind of a big deal.
Tiffany King put together beautiful scenes of Nathan and Ashton together! I loved Nathan – so sweet and swoon-worthy! Ashton is also amazing; she's an incredibly determined individual and definitely earned my respect. The novel is in dual POVs and it's wonderfully done. Nathan and Ashton's voices were so distinctive that I was never confused which one we were in and the switches in the POVs were so natural. The overall pacing, the atmosphere, and the characters were fantastic! Each secondary character stood out and I came to love each of them immensely!
King made me feel like I had my heart ripped out, torn apart, rearranged and put back in. But in a good way. I laughed, I cried and I loved it. If you're in the mood for an awesome contemporary romance, with humor, steam and heart, check this out!
My Rating: 
Have you read it? What did you guys think? Will we ever think of bike rides the same way again? Leave a comment and discuss!
Related Posts