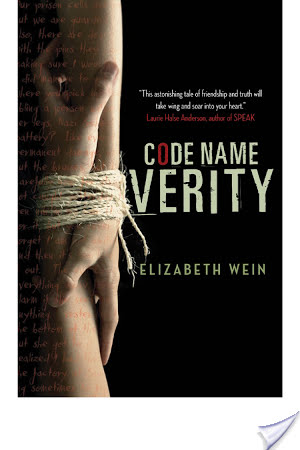 Code Name Verity

by Elizabeth E. Wein
Published by Doubleday Canada on May 15th 2012
Genres: General, Girls & Women, Historical, Holocaust, Young Adult
Pages: 364
Format: Hardcover
Source: Library
Goodreads


Code Name Verity is a compelling, emotionally rich story with universal themes of friendship and loyalty, heroism and bravery. Two young women from totally different backgrounds are thrown together during World War II: one a working-class girl from Manchester, the other a Scottish aristocrat, one a pilot, the other a wireless operator. Yet whenever their paths cross, they complement each other perfectly and before long become devoted friends. But then a vital mission goes wrong, and one of the friends has to bail out of a faulty plane over France. She is captured by the Gestapo and becomes a prisoner of war. The story begins in "Verity's" own words, as she writes her account for her captors.From the Hardcover edition.
Oh my goodness, wow. This book was simply amazing. How do I even start to put into words how much I loved this?
This is a story that takes place during World World II and tells of the incredible friendship between two girls that may not have met if not for the war. I honestly don't want to say that much more because I don't want to give anything away. Trust me when I say the story is awesome. Yes, this is historical fiction and yes, that may not be a genre that's up your alley. But THIS. This story is incredible. I personally have always enjoyed historical fiction but haven't read it in a long time. Code Name Verity reminded me  why I loved it so much.
The story is told in a journal-esque manner and that was perfect for placing you right there inside the character's head. The writing was fantastic, and you FEEL their pain, fear, happiness and hope. You experience everything right along with them and get swept up in their tale. You are there, in war torn Europe in the 1940s. And as much as that is a place you so do not want to be, you will care so much for these two girls and their story that it's okay.
The beginning of the book was a little harder to get used to just because you are thrown lots of plane terminology. Gradually, I got used to it and got sucked into the narrative. I loved piecing together all the different aspects of the story. The way everything fit together was just phenomenal! The twists and gasp-out-loud moments! They were so good! Even those moments when you feel like your heart is crying and you can't breathe. Even then, I loved it.
And most of all, their friendship. Besides being about WWII and planes and Europe, Code Name Verity is about the strongest, most moving friendship I have read in a long, long time. I really can't recommend this highly enough!!
My Rating: 
Have you guys read this? Do you usually stay away from historical fiction? Share in a comment!
Related Posts