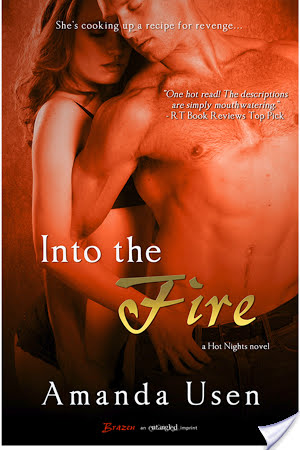 Into the Fire (Entangled Brazen)

by Amanda Usen
Published by Macmillan on June 10th 2013
Genres: Contemporary, Fiction, General, Romance
Pages: 201
Format: eARC
Goodreads


Into the Fire (A Hot Nights Series Book) by Amanda UsenShe's cooking up a recipe for revenge…Heir to the Calabrese restaurant empire, Jackson Calabrese can buy whatever he wants—except creativity. He can craft perfect paella, but if his new restaurant is going to take New York by storm, he'll need help. And there's only one chef with the culinary creativity to reinvent their menu: former rival—and lover—Lila Grant. The one woman with all the right ingredients to drive Jackson wild. And damned if he doesn't want another taste.During their time at the culinary academy, Lila brought the heat in the kitchen and between Jackson's sheets. Seducing her back into his bed—and his kitchen—should be easy. But after the way things ended between them, Lila isn't giving anything away for free. Jackson may have made her an offer she can't refuse, but she wants revenge, and she'll take it served hot...one delicious bite at a time.
I received this book for free in exchange for an honest review. This does not affect my opinion of the book or the content of my review.
The two main characters Jackson Calabrese and Lila Grant went to culinary school together. They had one hot night right before an important cooking competition. Jackson won with recipes that Lila believes he stole from her. Hatred ensues. Fast forward a bit and Jackson (who comes from lots of money) is about to open his new restaurant and Lila is struggling to make ends meet. They strike a deal for her to work with him and things spiral off from there.
When I first started this, the thing that bothered me was the immediate hopping into bed and subsequent "we are perfect together" kind of thinking. Okay, so it's not REALLY insta-love because they went to culinary school together so I guess they knew each other but it's not like they talked or were friends or anything. So, minor annoyance there.
Another annoyance is that everything is stemming from this one misunderstanding at that cooking competition. It bugged me because if they could've just taken two seconds to TALK or communicate at all it would've been resolved. That would've saved me a lot of grumbling because good lord, they just needed to get past that and end up together already! I wanted to lock them together in a room until everything was hashed out. Except then there wouldn't be a story, would there? I guess I just dislike situations where the conflict is based off a misunderstanding that could be SO easily resolved.
Also, the insecurities from both Jackson and Lila drove me up the wall. Neither of them think they're good enough and think the other is simply amazing. They each thought that multiple times throughout the book and it got a little tiring.
Okay so now that I've got all the things I didn't like out of the way… there were things I did like! Like… THE FOOD. Oh my God, all the foods and dishes that were described sounded downright amazing. I wanted to go to these restaurants, I wanted to BE at Jackson's restaurant's opening night! I feel like I need to go to New York NOW and go to expensive restaurants I can't afford and eat there! I really liked reading through the dishes they came up with, the ones that they cooked and ones that they ate. I liked how they inspired each other to create amazing dishes. It was like Food Network in book form and I have a serious love of the Food Network and cooking shows and competitions. (Iron Chef! Chopped! Cupcake Wars!) So yeah, those parts were pretty fun to read.
I liked the characters for the most part when they weren't wallowing in how much better the other person was. I understood Jack's allure and his character is not at all one dimensional. There was a lot more to him than I had initially thought and I really liked him. I understood his lack of self confidence. I didn't connect with Lila quite as much.
Anyway, this was fun, quick read. I didn't get too attached to the characters but the food driven plot kept me entertained. I'll leave you guys with this fun quote:
He gritted his teeth, then winced as pain shot through his jaw. His dentist had warned him. Unless he developed another response to stress, he was going to end up with cracked molars. However, the future prospect of extensive dental work wasn't as painful as what lay in his immediate future: listening to Lila Grant rip his beloved menu apart." – pg 62
I just love it when I find references to dental work being compared to something awful and painful. We're not that bad, you guys! I'm friendly and nice!
My Rating: 
Are you guys into the Food Network like me? Have you read this and what did you think? … Do you hate your dentist?
Related Posts