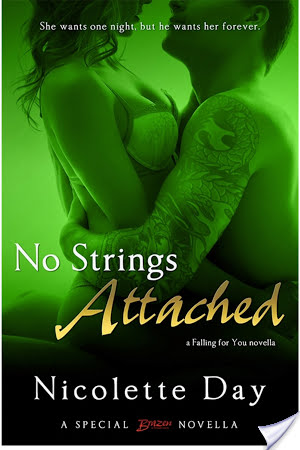 No Strings Attached (Entangled Brazen)

by Nicolette Day
Published by Macmillan on June 10th 2013
Genres: Contemporary, Fiction, General, Romance, Short Stories (single author)
Pages: 62
Format: eARC
Goodreads


No Strings Attached by Nicolette DayShe wants one night. He wants her forever.Hayden Summers just landed the job of a lifetime taking pictures for Time magazine, but she's determined to leave with no regrets. The first thing on her list? Erase the memory of her cheating ex with a wild night of anonymous sex. The second? Figure out why her best friend, sexy bar owner Jace Jennings, stopped speaking to her the night she told him about the job. Jace has a problem. Hayden isn't just leaving the country, she's risking her life—just when he's realized he's in love with her. When fate traps them in the storage room of his bar together, barely contained desire simmers to surface. In one last attempt to keep her, Jace offers Hayden the one thing she wants: a night of hot sex, no strings attached. But when the night is over, will Jace be able to let her go? And will Hayden leave with her heart intact?
I received this book for free in exchange for an honest review. This does not affect my opinion of the book or the content of my review.
Oh. My. Goodness. Let me just start off by saying, perhaps refrain from reading this in public–unless you prefer swooning in public. Because sexy-as-hell Jace Jennings will have you swooning!
No Strings Attached is a novella by Nicolette Day, alter ego of Tara Fuller (author of the young adult paranormal series Kissed By Death). In this short read, you're introduced to Hayden Summers, a photographer who finally lands her dream job with Time magazine, and consequently will be flying out of the country for at least a year. She wants one last hurrah before she flies out. Enter: Jace Jennings. He's been her best friend since forever and someone who has been there for her through everything, especially during her past year of hell. If there's one thing I love, it's best friends to more than just friends type relationships. And, ummm, oh my God, Jace. You will fall in love with Jace because seriously. He simply exudes all sorts of off-the-charts hotness. And he's sweet, thoughtful and all around awesome. Plus, he watches the Walking Dead. You can't go wrong there!
Despite the fact that it's a novella, and in between all the very well written steamy scenes, Nicolette Day manages to succinctly describe these characters so well. You catch a glimpse of the past history these two have shared (and it's truly touching how they've taken care of each other) and how each has had feelings for each other while unbeknownst to the other. One of the things I love about Hayden is the fact that she's strong, independent and pursuing her career and conversely, I love that Jace realizes this and knows that he can't be selfish with her.
If you're looking for a fun, quick read with a lot of heat and if you want to fall in love with Jace Jennings (which you do!), check this out! Prepare for lots of smexiness!
Come back TOMORROW for my stop on the No Strings Attached blog tour with an interview with Nicolette Day!
My Rating: 
Have you read this and what did you think? Let's discuss!
Related Posts