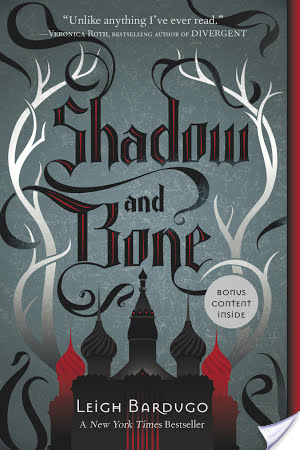 Shadow and Bone

by Leigh Bardugo
Series: The Grisha #1
Published by Macmillan on May 7th 2013
Genres: Action & Adventure, Fairy Tales & Folklore, Fantasy & Magic, General, Monsters, Science Fiction, Young Adult
Pages: 416
Format: Paperback
Source: Bought
Goodreads


Surrounded by enemies, the once-great nation of Ravka has been torn in two by the Shadow Fold, a swath of near impenetrable darkness crawling with monsters who feast on human flesh. Now its fate may rest on the shoulders of one lonely refugee. Alina Starkov has never been good at anything. But when her regiment is attacked on the Fold and her best friend is brutally injured, Alina reveals a dormant power that saves his life--a power that could be the key to setting her war-ravaged country free. Wrenched from everything she knows, Alina is whisked away to the royal court to be trained as a member of the Grisha, the magical elite led by the mysterious Darkling. Yet nothing in this lavish world is what it seems. With darkness looming and an entire kingdom depending on her untamed power, Alina will have to confront the secrets of the Grisha . . . and the secrets of her heart. Shadow and Bone is the first installment in Leigh Bardugo's Grisha Trilogy.
I ABSOLUTELY LOVED THIS BOOK.
I find it exceptionally hard to write reviews for books that I completely fall in love with because when I think about what I want to say about it, I'm essentially just going "ahhhh SO GOOD" and "I LOVE MAL" with lots of flailing. And while that's how I FEEL about it, I'm thinking it's not so good to have an all caps review. =) So I will try my hardest to put coherent sentences together!
In Shadow and Bone, Leigh Bardugo creates an amazing fantasy world that is influenced with Russian themes. In this world, the Grisha are ones who can control magic and they are under the command of the Darkling who is tall, dark, mysterious and most of all, powerful. The country of Ravka is at war and has been at war for ages with some of the surrounding countries. Alina, the main character, is a member of the King's army, working as a mapmaker. She was orphaned long ago, as was her best friend, Mal. Together they serve in the army and the story starts off with a bang as they are about to enter the strange and dangerous Fold — an area of the country that is covered in darkness, filled with scary creatures, and splits the country.
They enter the Fold and HELL BREAKS LOOSE. Alina is discovered to have a power no one ever knew she had and all of a sudden she is whisked away to serve the Darkling and everyone believes she can save them all.
First of all, the imagery and world building was simply amazing. THIS is why I love fantasy! Leigh builds this history and description of Ravka that is infused with Russian themes that makes it so real. I mean, really, I was blown away by the imagery! The Russian themes were so consistent and in all the little details. The descriptions were just enough — not too long to make it long winded but enough for it to place you there, in Ravka. The descriptions of the palace, the food, the clothes, the people — all of it wraps you up in this world completely. Granted, all the Russian terms were a little staggering at first, and I had a little bit of trouble keeping track of names and places and such but then it clicks. And after it clicks, you become completely immersed.
The Grisha. They each have a special power and they hone and practice their individual skills. There is a kind of awe associated with them from everyone else because yeah — they can do pretty awesome things. They serve under the Darkling who is…well, dark. Seriously, everything associated with him is dark. He is the only one to wear the Grisha color of black and he is said to be hundreds of years old. He's mysterious. He's powerful. He's alluring. And everyone can't help but be attracted to him because no one is quite like the Darkling. No one quite even knows what he is.
This brings me to Alina. She starts off as an ordinary mapmaker. You get the image of a scrawny girl struggling along in the army. She's just trying to make it through. I liked her well enough in the beginning — she's a little snarky but also a little lost. She developed and grew so much throughout the book! She blooms and discovers herself and her power. And by the end, I just loved her.
Last but most definitely not least… Mal. Alina's best friend since they were orphans together as kids. He is serving in the army as a tracker and he is the best at it. He starts off as this boyish, handsome guy who's kind of a flirt and after the events of the book, develops into this fierce, amazing man. I just spent literally 10 minutes typing and backspacing,  trying to write up WHY I loved him so much and HOW he's so amazing but there are just simply NO words. He is the type to stand up and fight for what he loves and he is loyal and fantastic and has striking blue eyes. =)
Leigh's writing is beautiful and she tells the story so well! The TWIST surprised me and it was around that time that I decided, "who needs sleep? I gotta finish this!" The lack of sleep was totally worth it. There's action, adventure and romance all wrapped up in this incredible book. It's been awhile since I've read a fantasy I've fallen completely in love with and this, guys, is it. I was so immersed in this world that all day today I kept thinking about it and I just wanted to ramble about it to everyone! Read it if you haven't already!!
My Rating: 
I also was able to meet Leigh Bardugo at the Fierce Reads tour stop last week! I was stupid and didn't check the stops so I didn't realize they were here until they WERE and I didn't get to finish reading this before I went. I'm sad because I would've LOVED to gush and ramble to Leigh — so really, on second thought, it may be a good thing that I hadn't finished reading because otherwise I would've scared her, for sure.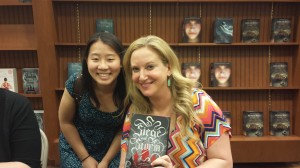 And yes, I have Siege and Storm just sitting here, waiting for me! I am SO beyond excited to dive into the sequel!
Have you read Shadow and Bone? If so, TALK to me so we can chat about how awesome it is!! Did you like Mal? Or the Darkling? What kind of Grisha would you want to be?
Related Posts