This book may be unsuitable for people under 17 years of age due to its use of sexual content, drug and alcohol use, and/or violence.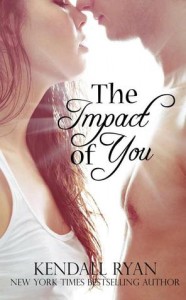 The Impact of You

by Kendall Ryan
Published by HarperCollins Publishers on April 23rd 2015
Genres: Fiction, Romance, Erotica, General, Contemporary
Pages: 180
Format: eBook
Source: Bought
Goodreads


From the NEW YORK TIMES bestselling author of FILTHY BEAUTIFUL LIES
Needing an escape from her past, Avery chooses a college where no one knows her. Keeping a low profile was the plan, falling for the intense frat boy, Jase wasn't. Yet she can't deny how alive she feels when he's near. Even as common sense implores her to stay away, her body begs her to get closer.
Jase, numb from his own family drama, has grown bored with weekends fueled by nameless girls and countless bottles when he meets Avery. Helping her cope with her past is better than dealing with the bullshit his own life's served up. Determined to drive away the painful secret she's guarding, he appoints himself her life coach – getting close to her and being the one to make her smile are simply perks of the job.
But when Avery's past boldly saunters in, refusing to be forgotten, can Jase live with the truth about the girl he's fallen for?
Okay, what do I say about this book. We read this for our Girls with Books weekend read along last weekend. Our responses were pretty similar.
This book didn't start off well for me. There are new adult books that are riveting and grab me and I love them so and then there are new adult books that just feel like a mish mash of new adult themes. It didn't help that not very far into it, I was struck by how similar it was to Wait For You (and I freaking loved that book). The main character's name is Avery and she doesn't like parties — she doesn't do that anymore thanks to something that happened in her past. She has wacky best friends, one of whom is gay. At this point, I tweeted my #GwB gals and was like "hmm this is so similar, I don't like it."
I waited. But Avery kind of bugged me and I didn't connect to her. She has all these trust issues, right? But the second time she meets Jase, it's like I TRUST YOU. The insta-trust was too much for me. I had to put it down for awhile.
I didn't start up again until I got on my plane to go back to Vegas. I was thinking, okay, sweep me away Jase. No. I did not like Jase at all. He seemed like he'd have redeeming qualities but… okay, I just thought he was kind of a jerk. He did things that I was like SERIOUSLY, Avery, why aren't you mad?? I wanted to rant to the poor guy sitting next to me on the plane but I restrained myself.
Anyway, I mostly skimmed through the latter part of the book. I couldn't connect to any of the characters and I really didn't like Jase so I ultimately found myself not invested in their story.
That's my two cents. I didn't connect, but that's just me. Maybe it will work for you!
My Rating: 
Related Posts