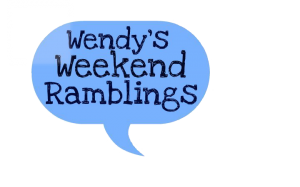 It's time for Wendy's Weekend Ramblings! This is my feature where I will be discussing a variety of topics that may or may not be book related. Why? Because sometimes I come across a topic I want to ramble on about and you, my lucky readers, get to partake in the fun of reading about it! You guys are welcome to chime in with what you think of my rambling topic of choice!
This week's topic:
Library Loan Lengths
Okay, if you're like me, you have a book buying problem. It doesn't matter that your TBR list is a few football fields long, you have this perpetual want/need to BUY ALL THE BOOKS. Unfortunately, I don't have the means to fund this rock-and-roll lifestyle so I like getting books from the library. I usually tend to get ones there that I'm not sure I'll like or just when I really can't buy anymore but still want a particular book to read. However, my book buying problem also extends into library book hoarding. Currently I have a bunch of library books I haven't had time to get to yet so I keep having to renew them.
Which brings me to the main point of this weekend's topic. Because as I was renewing some of them, I realized, why have I had to do it so frequently? Why is the loan length SO SHORT?!
If I remember correctly, my old library back home had a loan period of a few weeks. Seriously. I swear. At least a few weeks.
The library here? 10 days. That's the loan time they give you. And it's making me angry! When I have multiple books checked out, plus ones of my own I'm reading, I'm constantly renewing! And if there's a wait list for a certain book? They don't let you renew. (Which makes sense I guess, but I wouldn't be quite so upset about this if the loan time wasn't 10 days!)
Am I being irrationally upset about this? What is the loan time for your library? Is my library nuts or is this normal?
Related Posts