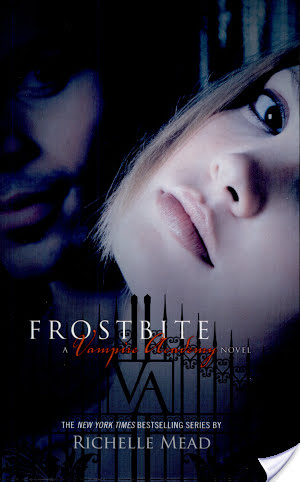 Frostbite

by Richelle Mead
Series: Vampire Academy #2
Published by Penguin on April 10th 2008
Genres: Young Adult, Horror & Ghost Stories, Social Issues, Friendship, Girls & Women
Pages: 336
Format: Paperback
Source: Bought
Buy on Amazon
Goodreads


Rose loves Dimitri, Dimitri might love Tasha, and Mason would die to be with Rose…
It's winter break at St. Vladimir's, but Rose is feeling anything but festive. A massive Strigoi attack has put the school on high alert, and now the Academy's crawling with Guardians—including Rose's hard-hitting mother, Janine Hathaway. And if handto- hand combat with her mom wasn't bad enough, Rose's tutor Dimitri has his eye on someone else, her friend Mason's got a huge crush on her, and Rose keeps getting stuck in Lissa's head while she's making out with her boyfriend, Christian! The Strigoi are closing in, and the Academy's not taking any risks.... This year, St. Vlad's annual holiday ski trip is mandatory.
But the glittering winter landscape and the posh Idaho resort only create the illusion of safety. When three friends run away in an offensive move against the deadly Strigoi, Rose must join forces with Christian to rescue them. But heroism rarely comes without a price…

Since most of you guys have read the VA series, this will be mostly my reactions rather than a "review".
I loved Rose's attitude and kick ass demeanor in Vampire Academy and we get to see more of that in Frostbite! I like Rose because she has such a fiery and snarky personality. But she doesn't stay the same, you see her start to mature in this one and I loved that. Speaking of things I love, Dimitri, guardian and duster-clad warrior god is ever present and providing the best forbidden love tension ever. Adding to the tension is fellow dhampir and friend of Rose's: Mason. Mason is just so.. adorable in his feelings for Rose and you can't help but like him. But of course since he is in the way of my Dimitri and Rose forever plan, I couldn't like him too much. Even if he is awesome.
In Frostbite we meet one of my favorite characters. Adrian Ivashkov. *silly grin* Eee! He is an insanely handsome Moroi that will make your heart melt. Oh and he's one of the Royal Moroi, really rich, kinda arrogant and drinks too much. Those all sound like "bad" qualities but the "I know I'm amazing" attitude just suits him and I love it. He may act all arrogant but he's not a jerk — he just likes getting a rise out of Rose. And, somehow in books, I gravitate to those cocky, swoony boys! Plus, Adrian is much more than meets the eye. Underneath all the smoking, and drinking, and arrogant exterior is someone who is really worth getting to know. Adrian also kind of reminds me of Damon from Vampire Diaries (the show). Hair included. Because did I mention he has fantastically rumpled hair? =)
This was the only one in the series I'm giving a 4 star and that's because I felt like it was a little slow at parts. I feel like I could tell what was going to happen. However, I still enjoyed the story wholeheartedly. I just loved Richelle Mead's writing and all her characters! I may have even gotten choked up at one point. =\
Anyway, great sequel and awesome characters!
My Rating: 
Related Posts