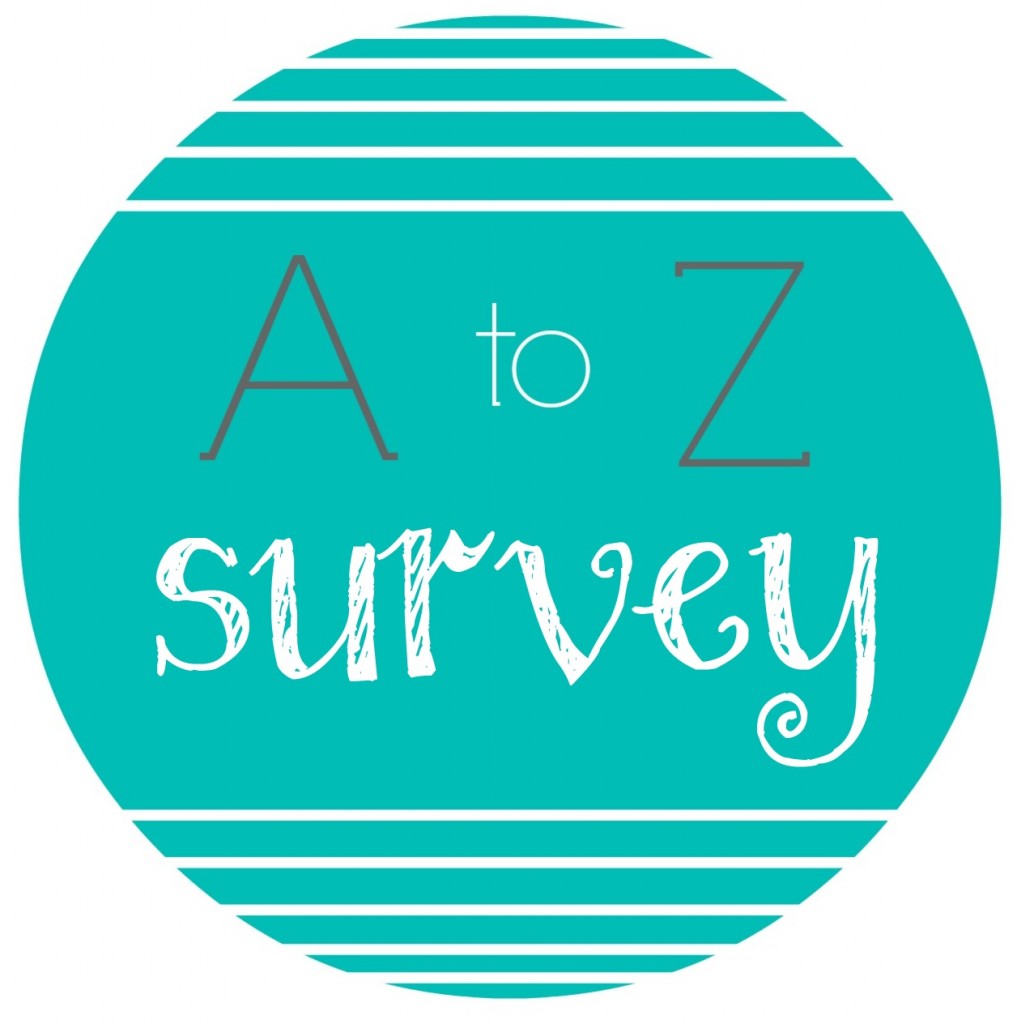 This awesome fun A to Z survey was created by Jamie at The Perpetual Page Turner!
I know I'm a little late to the party but… I absolutely loved doing these type of survey things back in the day! I really can't even tell you just how many I did. So I had to this one, of course!
Author you've read the most books from:
Jennifer Armentrout. I think I've actually read every single book she's written! I've read 12 of hers, not counting novellas. What can I say, I love her.
Best Sequel Ever:
The one that comes to mind right now is Siege and Storm by Leigh Bardugo! I adored Shadow and Bone and thought Siege was just FANTASTIC. Loved it!
Currently Reading:
Lost and Found by Nicole Williams!
Drink of Choice While Reading:
Water. I drink so much water. I usually read before bed too so coffee, my other drink of choice, would be a bad call.
E

–reader or Physical Book?
I love the feel of a physical book! But my kindle is awesome for vacations or trips and great kindle deals from amazon! I went into GREAT detail about this in this post of mine.
Fictional Character You Probably Would Have Actually Dated In High School:
West Ryder from Click to Subscribe by L.M. Augustine. I was kinda dorky in high school. West's sense of humor fits mine and I think I would've loved to go on ice cream dates with him and just be silly and fun.
Glad You Gave This Book A Chance:
Vampire Academy by Richelle Mead! I honestly was not all that into vampires and didn't really have an interest in reading them. However, since so many people loved it I decided to check it out — SO glad I did!!
Hidden Gem Book:
Ermmm. My mind just blanked out. I don't know!
Important Moment in your Reading Life:
When I started reading YA again, got really excited about it and decided to start blogging! There was a big chunk of time, mostly in undergrad, when I didn't read too much or just sporadically because I didn't know what to read. So glad I got back into it!
Just Finished:
Pushing the Limits by Katie McGarry. SO GOOD. NOAH freaking HUTCHINS. <3333
Kinds of Books You Won't Read:
Hmm I'm not sure. I'll usually try anything once to see if I like it or not.
Longest Book You've Read:
A Storm of Swords by George R. R. Martin (1177 pages). WHOA. I didn't realize it was that many pages until just now. I read it on my kindle so I really didn't have too much of an idea. I also devoured this in less than a week I want to say? Let's just say I didn't get much sleep that week.
Major book hangover because of:
Finishing the Vampire Academy series. After binge reading them over a weekend, going to school Monday was WEIRD. I wanted to be in the Moroi world and real life was NOT as interesting. I wandered around with my head still stuck in the books. It was bad.
Number of Bookcases You Own:
Only 1!!! It's horrible. I don't have enough room in my apartment for more — technically I guess I could overtake our living room with bookcases but not sure the roomie will approve. So I just have stacks of books where I can put them in my room.
One Book You Have Read Multiple Times:
I've reread every single Harry Potter book MANY many times. Besides that, The Time Traveler's Wife by Audrey Niffenegger.
Preferred Place To Read:
In bed! I read before bed a lot. Most of the time this means I go to bed really late once I get engrossed in a book.
Quote that inspires you/gives you all the feels from a book you've read:
"I realize now that dying is easy. Living is hard." — If I Stay by Gayle Forman.
Reading Regret:
I regret that I didn't discover blogging earlier! ALL these books to read and ALL these awesome people to chat with about it!
Series You Started And Need To Finish(all books are out in series):
I'm actually drawing a blank on this one. If all the books are out, I usually tend to binge read. Which may explain why I haven't started many series. Because I know it'll take a lot of time and then I get intimidated. Big ones that jump to mind that I haven't read: The Mortal Instruments and The Infernal Devices. SOON guys.
Three of your All-Time Favorite Books:
All time? Is this even possible for me to do this? Okay, besides Harry Potter series, three not necessarily ALL-TIME favorites, but ones I love: The Green Rider by Kristen Britain, Shadow and Bone by Leigh Bardugo and The Time Traveler's Wife by Audrey Niffenegger.
Unapologetic Fangirl For:
Jennifer Armentrout. What can I say, I love her addictive writing style and awesome characters AND she knows how to write swoony men! Seriously, every single one she's written I've fallen completely in love with. How does she do this?? If I ever have the chance to meet her, I would just tackle hug her. Or… grin and do something less embarrassing.
Very Excited For This Release More Than All The Others:
Haha, going off of the previous — ORIGIN by Jennifer Armentrout. After the monster of a cliffhanger in Opal?? I needed this like yesterday. It's SO soon though, I am unbelievably excited!!!
Worst Bookish Habit:
Returning library books. I tend to check out quite a few because I get excited when I see ones I want. I hate having to put in requests and waiting forever for books. So if I see it right there, hey, I'm getting it. However, I end up not reading them on time and I keep renewing them. Over and over. For example… I left on my 3 week semester break back home (another state) and didn't return my library books. NOT MY FAULT, it was super late the night before when I realized and I didn't want to go out to do that! So I just figured I'd renew them all online. =\
X Marks The Spot: Start at the top left of your shelf and pick the 27th book:
I'm at my parent's house so you guys are going to get a glimpse of my actual YA self. (Because yes, all my old books are still here) It's Holes by Louis Sachar! I loved that one!! So good.
Your latest book purchase:
I've been surprisingly good (or was just busy with finals which prevented me from doing much book buying). Latest is Caught Up in Us by Lauren Blakely!
ZZZ-snatcher book (last book that kept you up WAY late):
Been awhile actually! The whole finals thing and not reading for a few weeks (very sad) happened. Hmmm. I'd say probably Spirit Bound or Last Sacrifice by Richelle Mead.
Hope you enjoyed the survey as much as I did!
Related Posts