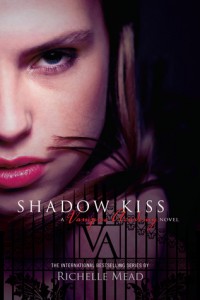 Vampire Academy

by Richelle Mead
Series: Vampire Academy #3
Published by Penguin Books Limited on February 4th 2010
Genres: Young Adult, General
Pages: 464
Format: Paperback
Source: Bought
Buy on Amazon
Goodreads


It's springtime at St. Vladimir's Academy and Rose is close to graduation, but since making her first Strigoi kills, things haven't felt quite right. She's having dark thoughts, behaving erratically, and worst of all . . . might be seeing ghosts. Consumed by her forbidden love with her tutor Dimitri and protecting her best friend, the Moroi princess Lissa, Rose is in no state to see the deadly threat that will change her entire world - and make her choose between the two people she loves most.
Shadow Kiss was my favorite one of the series! Is it because we see lots of Dimitri? Hmmm…. perhaps. =)
I loved this one so much, just seeing Dimitri and Rose's forbidden love. They can't be together. And yet, it's the one thing that seems so right in their messed up world! Dimitri made my heart kind of seize and flutter or some kind of arrhythmic activity — bottom line, he was affecting my heart in a big way. I loved seeing how awesome of a fighter/guardian he was and fierce and badass and then have it flip and you see his tender, emotional side as well. But only with Rose. That was just the best, seeing them fight against the feelings but knowing THEY ARE MEANT TO BE!
Rose is so much more mature in this one. She's trying to deal with a death and it forces her to grow I think. It shows so much that she is Dimitri's student and I love that she respects him so much.
Adrian is just as lovable in this one as the last and Christian is awesome — as always.
LOTS of action in this one that had me glued to the book and you get to find out more about this shadow kissed business between Rose and Lissa. Very intriguing and I loved how Richelle Mead works everything in! The twists! The turns! The.. everything!
The ending will shatter your heart. Your soul even. I had a mental explosion moment. If I remember correctly I was tweeting like crazy and then had to DM Sheri with ALL my feels. From my notes: "holy eff, how are things going to be ok??"
The ending had me frantic and anxious and I needed the next book like an addict needed their next fix. Seriously, that bad. Instead I had to sleep and go to a volunteer thing bright and early the next day for FIVE hours. It was torture. All I could think about was the book and it was killing me. In fact, I had developed a killer headache, probably due to lack of sleep from reading, and hopefully not related to any… "supernatural" happenings like Rose experienced.
Anyway, needless to say, I headed to B&N ASAP after that volunteer thing and bought the next book. =)
My Rating: 
Related Posts