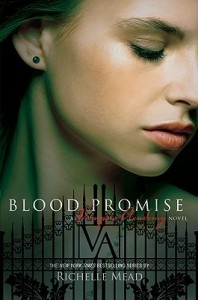 Blood Promise by Richelle Mead
Publisher: Razorbill
Publication Date: August 25, 2009
Genre: Young Adult Paranormal
Source: Bought

Purchase from: Amazon
| Barnes and Noble
Why did I not include the synopsis? Because… it's spoiler-y JUST in case someone hasn't read the previous ones and decided to skim the synopsis or something. The other day I went with a friend to B&N and I told her to read Shadow and Bone by Leigh Bardugo. Next thing I know, she's picking up Seige and Storm and going, "oh, is this the sequel?" and flips it open to read the synopsis. I snatched it outta her hand. Helloo, SPOILERS! So yes. That is why. 🙂
This one destroyed me. It was like Richelle Mead was repeatedly staking me in the heart with a silver stake. Seriously.
While this is mostly just my reactions to the book, I am also purposely very vague on plot details because I honestly am not sure how I'd say anything non spoiler-y.
I loved it, I truly did. Even if I had to consume a bunch of ice cream in the process. There are flashbacks of scenes that we haven't gotten to see in the previous books and that was amazing. I thought it added SO  much more emotion and also added another dimension to the story!
Also. By "SO much more emotion" I mean… burying my face in the book and going "gahh!!" Because apparently I do that when I'm emotionally traumatized. I may have cried at a few parts.
This book is VERY emotionally packed. Be prepared.
Besides going down the emotional torture path, this one is also action packed. While Rose is in Siberia, Lissa is having her own troubles back at VA and we see it happening through her bond. Because of that, you're left with almost a helplessness that you can't do anything because you're an ocean and a continent away! But I thought the flipping between both stories was great, they melded together awesomely and gave it that much more excitement.
Can I just say. I freaking adored Dimitri's family and I would've wanted to stay there forever with them too.
Abe is a fantastic new character! Totally complex and at first I didn't know what to think about him! Good? Bad? What?? But it works out and I thought his character was amazingly written.
There's LOTS more magic in this one, lots more depth, and it's all very intriguing. I was GLUED to the book. I freaking loved it all. Even though my heart broke countless times. *hugs book*
Rose is awesome. I want to be as badass and determined as she is. She has grown way more than she knows or credits herself for. *hugs book some more*
My Rating: 
Related Posts