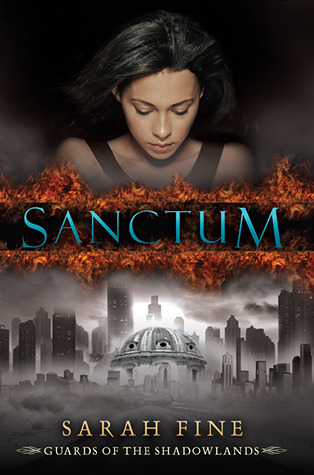 Sanctum

by Sarah Fine
Published by Marshall Cavendish Corporation on October 1st 2012
Genres: Paranormal
Pages: 416
Format: eBook
Source: Bought
Buy on Amazon
Goodreads


"My plan: Get into the city. Get Nadia. Find a way out. Simple."

A week ago, seventeen-year-old Lela Santos's best friend, Nadia, killed herself. Today, thanks to a farewell ritual gone awry, Lela is standing in paradise, looking upon a vast gated city in the distance—hell. No one willingly walks through the Suicide Gates, into a place smothered in darkness and infested with depraved creatures. But Lela isn't just anyone—she's determined to save her best friend's soul, even if it means sacrificing her eternal afterlife.

As Lela struggles to find Nadia, she's captured by the Guards, enormous, not-quite-human creatures that patrol the dark city's endless streets. Their all-too-human leader, Malachi, is unlike them in every way except one: his deadly efficiency. When he meets Lela, Malachi forms his own plan: get her out of the city, even if it means she must leave Nadia behind. Malachi knows something Lela doesn't—the dark city isn't the worst place Lela could end up, and he will stop at nothing to keep her from that fate.
You guys, I adored Sanctum! I've always been partial to paranormal books and this one was fantastic!
Lela Santos knows that she needs to rescue her best friend Nadia from hell. So she willingly walks through the Suicide Gates to go looking for Nadia. I loved the way that this city was described. It's desolate and reeks of despair. Every single person there is there because they've taken their own life and now that they're in that city, they become consumed with their own personal demons. Lela, having gone in willingly, is not like the others and goes on a search for Nadia. This mission is easier said than done. The city is humongous and there are those in the city that prey on the human souls there. Lela has to get out of there alive and rescue Nadia at the same time.
This was such an amazing story of friendship. When she was alive, Nadia was the best friend that Lela needed. Nadia helped Lela be able to dream of a future that had previously seemed impossible, especially after the terrible things that Lela has gone through in her past. While Nadia was the thread that lifted Lela up before, now Lela has to be the one to lift her out of hell.
Lela is one of those sassy, independent, strong headed characters that you just love right off the bat. The fact that she is choosing hell for her best friend just gives a testament to her character and how strongly she loves her friend. Lela is completely badass (I mean, she snuck into hell, how much more badass can you get?) and I loved how strong she was despite what she's gone through.
As Lela goes on her mission, she meets Malachi who is Captain of the Guard. The Guard consists of soldiers essentially protecting those in the city. Malachi is this quietly strong leader that is SO swoon worthy. He decides to help Lela on her journey and lends his crazy awesome fighting skills because they definitely need those on their side. I loved Malachi. He has such an interesting past and I can't help but admire him and his selflessness. Loved this guy. He kind of exudes safety and somehow I'm always drawn to guards, captains, people in uniform? Read it, you'll love Malachi too. =)
The world building of this city was detailed and just fantastic. Everything was described really well and at the right pace. I loved seeing Lela's journey. Sanctum not only explores how deeply the bounds of friendship can go but also the little nuances of life and death, love and sacrifice. I was glued to this book and could not put it down!
My Rating: 
What are your thoughts on the city? What do you think about Lela's devotion to Nadia? Did you love Malachi as much as me?
Related Posts