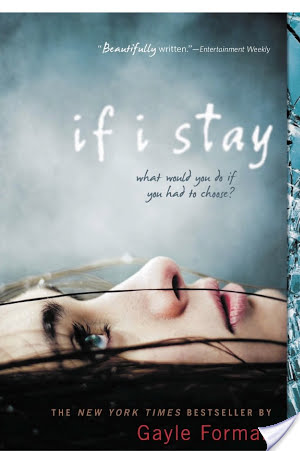 If I Stay

by Gayle Forman
Published by Penguin on April 2nd 2009
Genres: Young Adult, Family, General, Social Issues, New Experience, Death & Dying
Pages: 320
Format: Paperback
Source: Bought
Buy on Amazon
Goodreads


The critically acclaimed, bestselling novel from Gayle Forman, author of Where She Went, Just One Day, and Just One Year. Soon to be a major motion picture, starring Chloe Moretz! In the blink of an eye everything changes. Seventeen ­year-old Mia has no memory of the accident; she can only recall what happened afterwards, watching her own damaged body being taken from the wreck. Little by little she struggles to put together the pieces- to figure out what she has lost, what she has left, and the very difficult choice she must make. Heartwrenchingly beautiful, this will change the way you look at life, love, and family. Now a major motion picture starring Chloe Grace Moretz, Mia's story will stay with you for a long, long time.
A lot of the time, I stay away from the sad books. It's not that I don't like them, it's just that when I read, I immerse myself in the book, place myself in the characters' shoes and as a result, sad books really destroy me. So I really don't think I would've picked this up on my own, but I read it as part of the Gayle Forman read along and I'm SO glad I did. This book was just phenomenal!
As I just mentioned, sad books can really destroy me but this is the first book in a long while that has made me full out cry. As in, tears streaming down my face, ugly cry kind of sobbing going on. This book was heart wrenchingly beautiful.
On one normal day, on a normal trip with her family, something happens that changes Mia's life forever and now, she has to make a choice. Should she live and stay or would it be better to just let go?
When Mia's life changing event happens, it was so sudden and so abrupt that I literally had a moment where I went, WHAT. Not only is it sudden, but delivered in such a way that it leaves this hollow feeling in your stomach and from that moment on, I was glued to the book. Mia watches things happen to her and around her and woven between the present of her in the hospital, flashbacks of memories and events occur. I loved how the little flashbacks gradually unfurl Mia's former life as well as showing you who she was. I loved the interactions with her family — while her parents could be quirky, they were so loving and each scene just kind of tugged on my heart a little bit more. You see what she had and also, what was ripped away from her.
"I realize now that dying is easy. Living is hard."
And then there's Adam. Oh, this boy. I think Adam's love shows the kind of raw, unconditional love that everyone wishes to experience.
"I can't wrap my mind around the notion of you not getting old, having kids, going to Juilliard, getting to play that cello in front of a huge audience so that they can get the chills the way I do every time I see you pick up your bow, every time I see you smile at me. If you stay, I'll do whatever you want. I'll quit the band, go with you to New York. But if you need me to go away, I'll do that too."
One of my favorite quotes ever. I love how emotional this book was and how it so beautifully showed Mia's struggle of whether or not to live. It may be painful but it was amazing. Prepare yourself though because tears WILL be shed.
My Rating: 

Related Posts