I'm not sure what it is about a trench coat that makes a man mysterious, strong, badass and all kinds of sexy awesomeness but there's definitely something! Something enough for me to dedicate a post to it. =)
Angel in Buffy the Vampire Slayer and Angel: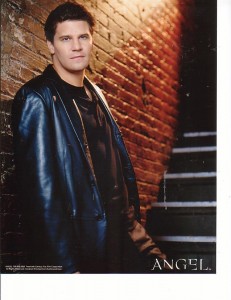 Let's face it. There are many reasons why I love David Boreanaz playing Angel in the Buffy and Angel shows (he's got that broody, tortured vampire soul down pat) and one of them is his trusty black trench coat. This jacket made appearances in the early seasons of Buffy, signifying both Angel's protectiveness of Buffy and the fact that he cared for her (remember Buffy wearing it around for awhile?) but the first time I decided I LOVED it is when I saw the intro to Angel Season 1. That scene where Angel is walking down the dark alley, trench coat tails flapping in the air after he's just killed off two vampires — THAT. The coat is an accessory to his badass dangerous vampire presence. And I love it.
Dimitri in Vampire Academy:
(I can't find a good picture so if you see one, send it my way! Maybe he just looks too good in my head, pictures can't match up)
That dhampir and his trusty duster. Sweeping around him as he whirls and fights evil Strigoi — the duster is as much a necessity for him as his stake is. I think it adds to his mysterious, quiet, broody allure. And as wary as I am about the movie (and as much as the Dimitri in my head is hotter than who they cast), there is a scene in the trailer where he is striding confidently away, trench coat flapping, (this is apparently a running theme) and you just know you don't want run into HIM if you're a Strigoi. Which I'm not, so no problems there. Haha.
Castiel in Supernatural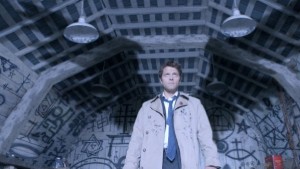 Cas, the angel I not-so-secretly lust after — yeah, yeah, multiple things wrong with that statement. But he's never without it and let's admit, he chose a hot vessel to inhabit. The man has good taste? Haha. I love how his non-humanness shows through and the funny, quirky things he says as a result. I love love LOVE his bromance with Dean (one of the best bromances of ALL TIME, with the one between Dean and his Impala coming in at a close second — sorry Sam, you rate after the Impala, ha!) And somewhere along the line, that trench coat has become so symbolic of Cas.
OMG, I forgot a VITAL person off this list!! So I'm adding him in now.
Mal in Firefly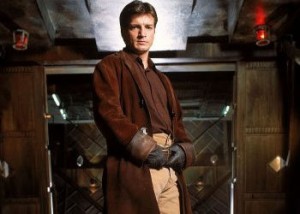 How could I have forgotten Captain Mal Reynolds?? He is the fearless, fair, awesome, kick-butt captain of the Firefly — he may be running from the law but he is more a man of justice than any lawman. No matter what Joss Whedon says, I will always always hold onto hope that ONE DAY they will bring Firefly back.
How do you guys feel about trench coats? Which one of the above is your favorite? Am I missing someone that SHOULD be on this list?
Related Posts