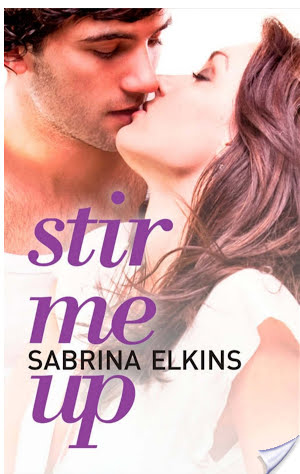 Stir Me Up

by Sabrina Elkins
Published by Harlequin on April 1st 2014
Genres: Young Adult, Love & Romance, Fiction, Romance, New Adult
Pages: 304
Format: eBook
Source: Bought
Buy on Amazon
Goodreads


Cami Broussard has her future all figured out. She'll finish her senior year of high school, then go to work full-time as an apprentice chef in her father's French restaurant, alongside her boyfriend, Luke. But then twenty-year-old ex-Marine Julian Wyatt comes to live with Cami's family while recovering from serious injuries. And suddenly Cami finds herself questioning everything she thought she wanted.
Julian's all attitude, challenges and intense green-brown eyes. But beneath that abrasive exterior is a man who just might be as lost as Cami's starting to feel. And Cami can't stop thinking about him. Talking to him. Wanting to kiss him. He's got her seriously stirred up. Her senior year has just gotten a lot more complicated….
Contains mature content and some sexual situations. Suited for readers 16 and up.
"Fun, steamy, and leaves you hungry for more. Sabrina Elkins nails the vulnerability of becoming an adult and the choices that come with growing up."—Katie McGarry, author of Dare You To
"Cami's slow burn for a wounded hero will rivet readers. I seriously loved this book."—Jennifer Echols, author of Dirty Little Secret
This book was AMAZING and I loved it so so much!!
Cami is the daughter of a French chef and has basically grown up in the kitchen. Cooking is where she belongs, it's in her blood. She's determined to pursue this as a career even though her dad does not want that life for her. She's entering her senior year of college with all this weighing on her shoulders when in walks Julian into her life. Julian is her step-mom's nephew, but she has basically raised him since his parents passed away. He is a Marine and got seriously injured in Afghanistan. Now he's living with them, taking over HER room and being an overall annoying jerk.
I second Cami's best friend Taryn when she says "a HOT INJURED MARINE?" (Yes, Taryn texts frequently in all caps but it suited her so well! I found it hilarious.) Anyway, the answer to that is a resounding yes. At first, Julian is a total pain but who can blame him — he's suffering from PTSD, he's terribly injured and slowly recovering and life is obviously not what it used to be for him. Cami and him slowly, begrudgingly, strike up a friendship.
Now, things I love about this book. Cami and Julian's relationship was paced wonderfully. No rushing, no dramatic plot device to separate them, just a truly beautiful relationship.
Secondly, I loved how it concentrated on how much of a crossroads Cami was in life. It is such a huge pressure to try and figure out and know for sure, what you want to do for the rest of your life. Cami's finishing her senior year and this question haunts her — go to college like her dad wants her to do? pursue a career as a chef despite the tough hours? what would be the right one? She's obviously conflicted but what I loved the most is that love does not define her choices. There is no "I love you forever, I will arrange my entire future around you" business. This is fantastic, because I don't think people should do that.
The food aspect in this book is so amazing. Cami is truly a wonderful chef and whips up incredible meals out of nowhere and it all plays vital parts in the story. When she loses herself to her cooking or a recipe or whatnot, it's so much fun to read because you see the passion she has for this. It's not just a hobby, this is her possible career and that's why her crossroads decision can be so tough.
I loved this story, of seeing Cami try to figure out these vital decisions regarding her future after high school and of seeing her discover this new and crazy love for Julian. Julian's pain, both physical and emotional, was heart wrenching and I loved seeing how he is slowly able to recover from both. It's not an easy road by any means, which made Cami's presence in his life that much more meaningful. Their story is just so beautifully written! I fell in love with them! I think there were scenes that I actually held my breath briefly because I just loved it so. Also! The humor in this book is awesome — I was literally laughing out loud to myself during countless parts!
Anyway, Stir Me Up is amazing. I could pick it up and just read it again right now. Need I say more? Go buy it and read it RIGHT NOW (seriously, it's only $1.99, that's less than a cup of coffee!) And then report back to me and we can chat!
My Rating: 
The best part is Sabrina has recipes of dishes in the story in the back of the book and on her website! I got really excited and decided to make these Apple Muffins with Cinammon Swirl and Streusel! It's from one of my favorite scenes in the book: Cami decides to be nice to the new surly and injured Marine now residing in her room and bakes muffins for breakfast. She brings them in to him but after some verbal sparring, ends up throwing the muffin at his face.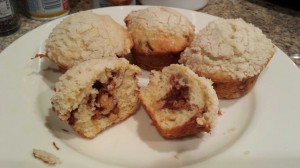 They were DELICIOUS!
Related Posts