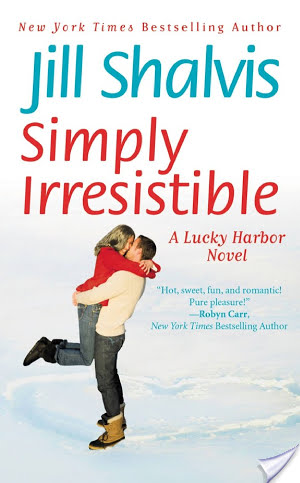 Simply Irresistible

by Jill Shalvis
Published by Grand Central Publishing on October 1st 2010
Genres: Fiction, Romance, Contemporary
Pages: 336
Format: Paperback
Source: Bought
Buy on Amazon
Goodreads


Maddie Moore's whole life needs a makeover.
In one fell swoop, Maddie loses her boyfriend (her decision) and her job (so not her decision). But rather than drowning her sorrows in bags of potato chips, Maddie leaves L.A. to claim the inheritance left by her free-spirited mother-a ramshackle inn nestled in the little coastal town of Lucky Harbor, Washington.
Starting over won't be easy. Yet Maddie sees the potential for a new home and a new career-if only she can convince her two half-sisters to join her in the adventure. But convincing Tara and Chloe will be difficult because the inn needs a big makeover too.
The contractor Maddie hires is a tall, dark-haired hottie whose eyes-and mouth-are making it hard for her to remember that she's sworn off men. Even harder will be Maddie's struggles to overcome the past, though she's about to discover that there's no better place to call home than Lucky Harbor.
I had heard of the Lucky Harbor books before but it wasn't until I saw one of them in a used bookstore and on sale to boot that I bought one. It was the 3rd book in the series but since they're not that reliant on each other, I read that one first. In one sitting. I LOVED IT. So I went back and got the first. =) Lucky for you, I'll review them in order, haha.
Maddie Moore is at a low point in her life when she drives into Lucky Harbor. She's lost her job and her jackass boyfriend and now she doesn't know what to do or where to go. Her mother that had been mostly absent from her life has passed away recently and has left an inn behind to her and her two half sisters, Tara and Chloe. That's the reason she finds herself rolling into this small coastal town — and nearly running over a hot handsome man on a motorcycle. But she isn't there for a relationship, in fact, no more men for her, EVER, she's told herself. No matter how attractive. She instead tries to pour herself into fixing up the run-down inn to be a viable place to use instead of just selling it off like her sisters want to do.
The relationship between the sisters was one of my favorite parts!! Each of them are so very different. They've grown up apart from each other, with their respective dads and neither Tara nor Chloe want to be in this town longer than they have to. But Maddie wants to try and see if they could fix up the inn and make it a home. They bicker and grate on each others nerves but gradually they learn to love each other. And I love THEM. I love seeing amazing sister relationships in books! So, Maddie convinces them to give the inn a shot. By a hilarious series of events, the hottie she almost ran over turns out to be the guy she hires over the phone to help them with renovations. Jax Cullen. (Sidenote: he is the very opposite of sparkly vampires so let's ignore that last name…)
Jax can rock a tool belt like none other and is just insanely attractive and amazing and swoony and thoughtful, protective, funny and perfect. Oh what, I'm rambling now? Jax will do that to you! He tries to woo Maddie, but having been burned badly in her last relationship, she's understandably wary.
But I mean, seriously, not only does he rock a tool belt, he's co-owner of a bar with his best friend and also the mayor. Okay, yeah, he's a little TOO perfect but it all kind of works for him. And he totally worked for me. Read this and tell me you won't go weak in the knees. *waves kindle wildy around*
Besides the insanely awesome romance that Jill Shalvis can write, I really enjoyed seeing the sisters come together and become friends. The town of Lucky Harbor is also just adorable, along with all its residents. I really want to live there because it's just too cute! The atmosphere of the town combined with the depth of the relationships between the sisters made this a great book but the romance with JAX CULLEN bumps it up into swoony awesome amazingness. Jax pouring a drink. Jax chopping wood. Jax slinging a tool belt around. Jax kissing. These are all the things you could be a part of if you read this!
This is really a book you can just sit back and relax with. A fun romance that is just irresistible. Yeah, I went there and made that pun. Don't judge, sometimes I think I'm punny.
(I should also mention that this is an adult romance, so keep that in mind.)
My Rating: 
Related Posts