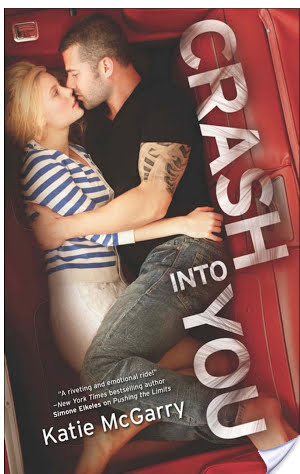 Crash into You

by Katie McGarry
Series: Pushing the Limits #3
Published by Harlequin on November 1st 2014
Genres: Young Adult, Love & Romance, Social Issues, Runaways
Pages: 304
Format: eBook
Source: Netgalley
Buy on Amazon
Goodreads


From acclaimed author Katie McGarry comes an explosive new tale of a romance forged in the fast lane
The girl with straight A's and the perfect life—that's who people expect Rachel Young to be. So the private school junior keeps secrets from her wealthy family…and she's just added two more to the list. One involves racing strangers down dark country roads in her Mustang GT. The other? Seventeen-year-old Isaiah Walker—a guy she has no business even talking to. But after the foster kid with the tattoos and intense gray eyes comes to her rescue, she can't get him out of her mind.
The last thing Isaiah needs is to get tangled up with a rich girl who wants to slum it on the south side for kicks. But when their shared love of street racing puts their lives in jeopardy, Isaiah and Rachel will have six weeks to come up with a way out. Six weeks to discover just how far they'll go to save each other.
I received this book for free in exchange for an honest review. This does not affect my opinion of the book or the content of my review.
Katie McGarry knows her stuff and I've been swept away with all her books! I really loved Isaiah in Dare You To and hated how hurt he was in that one. I never shipped him and Beth though, so I just wanted to see him find someone too.
In Crash Into You, we delve into Isaiah's world and his story — he was thrown into foster care when he was six when his mom got sent to jail. After a series of painful experiences and awful homes, he's pretty jaded and pissed off at the world. The only people in the world he trusts are Noah and Beth and now, not even Beth, not after she broke his heart and chose Ryan (that Ryan Stone… how dare he be all attractive and wonderful). He's currently living with Noah, sneakily trying to fly under the radar by not living with his foster family (who really couldn't care less). Money is tight though — Noah's in college so he can't work as much and they are barely paying the rent and bills. Out of desperation for money to pay rent, Isaiah takes to the streets to illegally drag race — just this once, just this one race, just for enough money to get by.
Enter: blonde, blue eyed, rich, private school attending Rachel Young who also knows cars as well as Isaiah. While seen as the weak or sickly one among her 4 older brothers and family, she takes to her car and driving and speed for escape. They both end up at the race and in a bad turn of events, cops show up and everyone runs. Isaiah and Rachel end up running together and while Rachel could've left Isaiah behind, she doesn't. That spark, of her seeing past his tattoos and piercings, leaves an impression on Isaiah that does not go away.
Unfortunately, illegal drag racing leader Eric thinks they sold him out. He gives them 6 weeks to pay him $5000. Or else. Well, yikes.
Okay, so I'm just going to say that there was slight insta-love with Isaiah and Rachel BUT I don't even care because I am so in love with Isaiah.
"Isaiah is hot and scary and hot."
Yes, you summed it up, Rachel! Seriously. Isaiah… shirtless, tattoos, racing cars, protective of people he cares about, looking HOT the entire time — yeah, I'd like one please. And, of course Katie McGarry writes the absolute best stories about her characters so each one feels SO alive to you. Both Isaiah and Rachel's pasts touched my heart and I just love how Katie can write these powerful, emotional scenes and move us so easily.
I absolutely, completely LOVE the close, tight knit bonds that exist between the characters. To be a friend in their world is hard earned and you uphold that honor by responding in kind and being family. They will do anything for each other and I absolutely love seeing that. One particular scene just about brought tears to my eyes to see everyone together, a crazy conglomeration of people but they're family.
"Brother. Years without a mom. Years without a dad. Knowing that no other blood relative existed on the face of the planet for me. But within two years, water becomes thicker than blood.
I hold my hand out to Noah and when he has a firm grip, I pull him in for a fast hug. We both clap each other's back.
"We're family," he whispers.
"Family," I repeat."
I want to hug them both.
The sacrifices and the choices they make reflect their bonds and it's just so amazing. Being a friend isn't just a phrase to be thrown around — it carries so much meaning to be a true friend, and it's these amazing ties that make Katie's books so special! I desperately wish I'd have people like that to have MY back if I were ever in these situations! But. Hopefully I won't be. Ever. Because Eric is one scary guy. I felt like this one had me a little more on edge and was more adrenaline fueled than the others — expected I suppose, given the plot of drag racing! I had my heart in my throat numerous times!
Swoon factor: Off the freaking charts. Isaiah is built and tattooed and holy crap kind of level of sexy, especially shirtless, tinkering under the hood of a car. Or racing in a car. Or just simply smiling. Rachel sees past his punk image and past what everyone thinks of him. He's smart, he works hard, he's not just a nobody. He's not what you'd expect. He may have gotten a crappy hand in life but she knows he has what it takes to make it. Conversely, Isaiah sees Rachel's inner strength and is the calming, strong force that Rachel needed in her life! I really liked seeing how Rachel was able to find herself and be able to BE her in her family.
Rachel's family situation really fascinated me as well as made me angry at them. It's a very unique, very interesting dynamic. I always wanted brothers so I loved seeing how much Ethan and West cared for their little sister. Maybe a little too much caring and too overprotective, but they loved her despite the jerk moves they pulled… I enjoyed seeing that play out (and so excited to see West's story!) I also loved Rachel's character; I loved seeing her light up when she talked cars!
Anyway, while I at first thought I wouldn't like it as much at the very beginning because of the slight insta-love, I was totally wrong. And I am as anti-insta as can be! Katie just has a way with her characters, plot and words! I love her! She puts so much heart and emotion into the story and builds such depth for each character that it all draws you in and holds you captive. The emotions and relationships (not just between Isaiah and Rachel but also their family and friends) are the soul of this book and the romance is the heart! I loved Crash into You to pieces!
My Rating: 
Lingering random thoughts:
1) I really want to be fictional for a day and jump into these books. They may go through hell but they go through it with friends that are closer than family at their backs! I want to be their friend! haha
2) I really want to learn how to drive a stick shift now! And maybe race cars. Just kidding on the last part.
3) I love this cover and definitely need to get myself a hard copy when it comes out!
4) Alright, it's time for me to be a jerk and ask: Kiss, Marry, Kill — Noah, Ryan, Isaiah. You HAVE to choose. What do you do??? Comment and let me know!
Related Posts