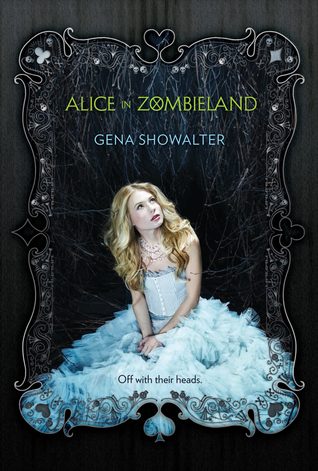 Alice in Zombieland

by Gena Showalter
Series: White Rabbit Chronicles #1
Published by Harlequin on September 1st 2013
Genres: Young Adult, Paranormal, Love & Romance
Pages: 384
Format: Paperback
Source: Bought
Buy on Amazon
Goodreads


Book 1 of The White Rabbit Chronicles
SHE WON'T REST UNTIL SHE'S SENT EVERY WALKING CORPSE BACK TO ITS GRAVE. FOREVER.
Had anyone told Alice Bell that her entire life would change course between one heartbeat and the next, she would have laughed. But that's all it took. One heartbeat. A blink, a breath, a second, and everything she knew and loved was gone.
Her father was right. The monsters are real.
To avenge her family, Ali must learn to fight the undead. To survive, she must learn to trust the baddest of the bad boys, Cole Holland. But Cole has secrets of his own, and if Ali isn't careful, those secrets might just prove to be more dangerous than the zombies.
Alice Bell is just an ordinary girl. Well, she has a dad that's kind of crazy and they're not allowed to leave the house after dark but other than that, totally normal. Until one night when everything changes and her world tilts upside down. She realizes that her dad may not have been crazy after all. She starts seeing things in the dark and she keeps seeing a perfectly shaped rabbit cloud in the sky…
I really enjoyed this one! At first it started off a little slow for me — for the first 100 pages it kind of skirts around what's really going on and since we know that it's zombies I just wanted things to start happening. However, then it does and it's non stop action! I loved it! The concept of these zombies is also really original and interesting! Definitely a new spin on zombies!
With these zombies comes a group of zombie slayers. One of them is Cole Holland — resident bad boy, complete with tattoos, piercings and war wounds from zombie skirmishes. His violet eyes are definitely something I won't soon forget!! He just gives off that aura of hey-I-may-look-like-trouble-but-you-can't-resist-me! He can kill zombies like nobody's business! And it's super attractive for a guy to be able to take care of himself in a zombie fight AND look out for you, too. Just saying. (Rare to find that nowadays…ha!)
Another favorite of mine is Alice's friend Kat. She's a little quirky and out there but totally sounds like someone I'd love to hang out with. She's there for Alice and is an awesome friend to her — being there for her through her family's deaths and also transition to a brand new school. Plus, she's hilarious.
One thing I have to point out is that this isn't a retelling of the Alice in Wonderland story. The name of the book may suggest otherwise but the only big references to Alice in Wonderland are just the title, chapter titles and appearance of a white fluffy rabbit cloud (I look for this now in the sky!! You never know what's out there!!) Alice kind of falls into a different world in the sense of finding out about a whole new zombie world but don't read this expecting a retelling. However, you should still read this because it was fantastic! I'm really excited to see what happens next and also to read more Cole in the next book, Through the Zombie Glass!
Even if you aren't a fan of zombies, check it out! It has a super unique zombie plot, action, and swoon! It's starts out a little slower but then you won't be able to put it down!
My Rating: 
Related Posts