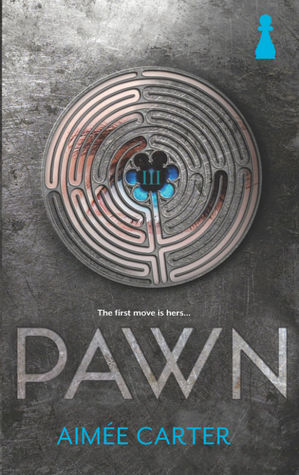 Pawn

by Aimee Carter
Series: The Blackcoat Rebellion #1
Published by Harlequin on November 25th 2014
Genres: Young Adult, Love & Romance, Fantasy & Magic, Science Fiction, Dystopian
Pages: 304
Format: eARC
Source: Netgalley
Buy on Amazon
Goodreads


For Kitty Doe, it seems like an easy choice. She can either spend her life as a III in misery, looked down upon by the higher ranks and forced to leave the people she loves, or she can become a VII and join the most powerful family in the country.

If she says yes, Kitty will be Masked—surgically transformed into Lila Hart, the Prime Minister's niece, who died under mysterious circumstances. As a member of the Hart family, she will be famous. She will be adored. And for the first time, she will matter.

There's only one catch. She must also stop the rebellion that Lila secretly fostered, the same one that got her killed …and one Kitty believes in. Faced with threats, conspiracies and a life that's not her own, she must decide which path to choose—and learn how to become more than a pawn in a twisted game she's only beginning to understand.
I received this book for free in exchange for an honest review. This does not affect my opinion of the book or the content of my review.
In Pawn, we are introduced to a dystopian world where people take a test upon turning 17 that will determine their rank for the rest of their lives. The number you get assigned becomes tattooed to the back of your neck and you are designated with a job and a standard of living that correlates with that number. I or II? Well… you'll probably live in poverty for the rest of your life, doing the most menial tasks. III? Better but still sewer duty. IVs could have a moderately okay life, Vs and VIs are much more privileged and VIIs are reserved for members of the Prime Minister's family.
Kitty, our main character, is marked a III and she resigns herself to her fate until she's taken and masked — all her features changed to have her look exactly like the prime minister's niece, Lila. Apparently his recently dead niece. Kitty is now Lila's replacement and in exchange for her cooperation, is a VII. A life of riches and privilege? Dream come true! Right? Wrong. The Prime Minister wants her to do his bidding. Lila's mother wants her to fuel a rebellion Lila had been a part of. Kitty just wants to live and keep her boyfriend Benji alive too.
I thought this dystopian world was very interesting and could set itself apart from other dystopians. There is a lot of political intrigue that kept throwing twists at you which was my favorite part. You are always guessing as to peoples intentions and motives and I was always anxious to see what would happen next.
I feel like I really enjoyed it while I was reading but it didn't leave much of an impact on me. I think the culprit lies in the characters. I didn't love any of them. Kitty is strong, smart, impulsive and I LIKED her enough but that's it. Benji, her boyfriend, really fell flat for me. Yes, he's a super nice guy but kind of one dimensional to be honest. I couldn't get a good grasp of his personality. Knox, Lila's fiance, I actually liked way better. While you couldn't always know if you could trust him, he was a much more interesting and driven character to me and I almost hoped for a love triangle (sorry Benji!) The rest of the Hart family is a piece of work. They're family but nothing says family like backstabbing for political gain, right? Those interactions were fascinating and I did like seeing that.
I know that there are a lot of people that enjoyed this immensely so I don't want to be all Debbie Downer here because I DID like it. It just didn't blow me away for some reason. I wish that there had been more action in the book. However, the dystopian world is set up wonderfully and the politics and crazy twists will keep you reading! Check it out and see for yourself!
My Rating: 
(but really like a 3.5)
Have you read Pawn? What did you think?
Related Posts