This book may be unsuitable for people under 17 years of age due to its use of sexual content, drug and alcohol use, and/or violence.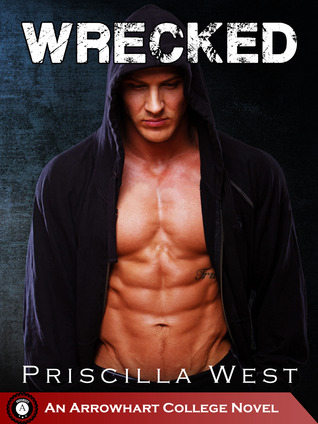 Wrecked

by Priscilla West
Published by Blackbird Publishing Genres: Fiction, Romance, General, Contemporary, New Adult
Pages: 330
Format: eARC
Source: Netgalley
Buy on Amazon


A USA Today Bestselling Romance Novel by Priscilla West
Note: This is the beginning of Hunter & Lorrie's story. You DO NOT need to read any other books in The Forever Series before enjoying this one.
"There would be no happy ending for us. He was too damaged. I was too broken."
Two years ago, Lorrie's mother was murdered. But that wasn't the end of it. Reeling from the tragedy, Lorrie's father spiraled into alcohol, depression, and finally suicide.
The two most important people in Lorrie's life are both gone but she's still alive.
Trying to recover from the tragedy, Lorrie returns to campus, ready to pick up the pieces of her life. All Lorrie wants is to get back to "normal."
Then she meets Hunter. The man, the legend, "The Hammer."
Hunter is a cage fighter who takes on every fight like he's got nothing to lose. His life is a tangled mess of girls, booze, and fist fights. And while it may seem like he's got a devil-may-care attitude, he's fighting a private cage-match with a monster he can't defeat.
Lorrie knows that Hunter is exactly the type of guy she should stay away from, especially in her fragile state, but Hunter has other ideas.
As Hunter and Lorrie grow closer together, will they be able to overcome their pain and heal each other? Or will they both end up wrecked?
______________________________
I received this book for free in exchange for an honest review. This does not affect my opinion of the book or the content of my review.
For virtual book club, Betty, Chelsea, Racquel and I were going to read Wrecked — it was read now on netgalley! There's a hot guy, apparently an MMA fighter, and the cover displays some nice abs and what Betty taught us were "penis pointers". This was hilarious and it was probably the bright spot in reading this book.
The book starts off with Lorrie about to start up at college again after having to take off a year. Her parents are dead, one murdered and one committed suicide not long after. It's a sad tale, truly, and it would have worked nicely but none of these issues get brought up or mentioned again for about 60%! She doesn't cope with it, she doesn't start to heal, it just isn't in the story for about half the book.
She meets Hunter after he saves her from drowning to death in the frozen lake where she had accidentally fallen in. It's a pretty typical NA story line — he asks her out, she says no, he wants to become friends. She begrudgingly becomes his friend. Their interactions are okay but their dialogue is seriously cheesy.
THEN, a little over halfway through comes the part where the book just completely lost me. I'm not sure if this is going to be spoiler-y since all NAs tend to be a little predictable and I mean, you know they're going to get together. If… you don't know that and want to read this, please disregard and skip my next paragraph. If you're looking for some entertainment, read on!
She keeps pushing him away even though they both like each other because… honestly her reasoning was pretty weak to me and I can't even remember what it was now (and I just finished the book an hour ago.) So she tells him no, I don't want a relationship! He says, no, I know we both have feelings for each other! 10 seconds later… they kiss! And proceed to spend the next four days holed up in his apartment. And when they emerge four days later, they're inseparable. I cannot wrap my mind around that. And if any of you all are interested in a detailed recap of my thoughts around this part of the book, feel free to tweet me, send me a message! I will gladly impart my thoughts — I just don't want to completely spoil this part. Ha. Just know that I am still not sure if I can enjoy Snickers bars and breakfast sausages the same, ever again. (puke)
This just seemed to be 100% improbable — that she doesn't want him and literally minutes later, does a complete 180. This didn't make sense. Not to mention, the dialogue was cheesy before but really digressed after that. I started skimming the last half. The craziness escalates from there and the book really completely loses me. I don't think I ever formed any connection to any of the characters. I couldn't like Lorrie — she was too wishy washy. I didn't even swoon — not once! — for Hunter and this is some totally hot muscled tattooed MMA fighter. I couldn't get a good handle on him and his personality didn't feel consistent.
My biggest gripe is the end. It's not a cliffhanger, it's not a happily ever after, it just… ends. I don't feel like I'm spoiling anything but I just want you to know, if you're heading into this book, that their story continues in a sequel. Here's the thing. I love sequels. I do. I love series and often binge read them. But sequels are only good if they're relevant. You don't chop a story in half just to have something for a sequel. Each book in a story should be a complete story. If there's more to the story, a new story arc is then completely welcome in a sequel. But why do people cut a story arc in half and package it into two books? It doesn't make sense to me and I've seen it done before.
Anyway. I'm sorry this review may be rant-y. But those were my honest thoughts. I was going to give it two stars because the first half wasn't too bad and I did genuinely have a laugh or two in there. But it really, really rapidly went downhill for me.
My Rating: 
Related Posts