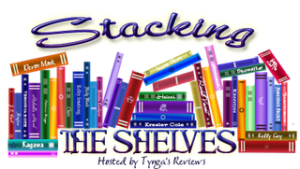 Stacking the Shelves is a meme run by Tynga's Reviews where we share our book hauls!
I have been on a book buying ban and lasted an amazing 15 days without buying a thing. I did get books from Netgalley during this time. I was doing so good! But of course then there had to be an Entangled Brazens sale. I could not resist. They were ninety cents! (and yeah, now I have Thrift Shop running through my head). I am back on my ban now — and may have walked out of the library with 6 books when I went there for just ONE hold.
Moral of the story? I have a book hoarding problem I think! But at least I'm not buying anything. Here's my haul! And, sorry, was too lazy to put covers. =/
Netgalley:
The Tyrant's Daughter by J.C. Carleson: Super intrigued by this one!
Ten Tiny Breaths by K.A. Tucker: I've heard a lot of good things! Can't wait to check it out
Fire & Flood by Victoria Scott: Loved the Collector by her, and I'm looking forward to this one too!
Lady Thief by A.C. Gaughen: So I need to read Scarlet before this one but I've heard raving reviews and I love Robin Hood stories!
99 cent Brazens:
In Bed With Mr. Wrong by Katee Robert: Both Jessica and Chelsea told me to get this! So of course I did.
Against the Wall by Rebecca Zanetti: Cowboy. Enough said!
Seducing Cinderella by Gina L. Maxwell: MMA fighter! That means it has to be good
Library:
The Darkest Kiss by Gena Showalter: The second in the Lords of the Underworld series! Can't wait for more sexy men! For our virtual book club read!
Shadowland by Meg Cabot: The first in the Mediator series and has been one that I've meant to read since before I started blogging!
Nowhere but Home by Liza Palmer: I've read nothing but amazing reviews about this one!
Roomies by Sara Zarr, Tara Altebrando: So excited to read this one! I love books that bring back college memories!
Love and Other Perishable Things by Laura Buzo: I didn't know about this one until I read Jamie's review of it. Sounds so good so I had to grab it when I saw it!
Voyager by Diana Gabaldon : The 3rd in the Outlander series! This was the hold I went to pick up, haha. I read the other 2 forever ago and am excited to read more about a certain Scotsman. 🙂
Here's to a few more weeks of book buying ban! Fingers crossed and wish me luck. I've got a ton of books to read though!
Related Posts