I decided that I wanted to start doing monthly recaps! I think it'd be a good way to see what I've been up to in the past month both on the blog and in life too.
Books Read:
7 books + 4 novellas
Favorite Books Read:
Throne of Glass and Crown of Midnight by Sarah J. Maas!! I forgot how much I ADORE high fantasy and this reminded me of everything I love about it. I think I read Crown of Midnight in one sitting. SO amazingly good. Plus Chaol you guys. Chaol! (reviews to come soon)
Reviews on the Blog:
Christmas Novellas – the one with feel-good Christmas stories!
Shatter Me series Thoughts – the one where I binge read the series to prep for Ignite Me!
Wrecked by Priscilla West – the one with my first 1 star rating
Dirty Red by Tarryn Fisher – the one with more craziness!
Defy by Sara B. Larson – the one with the worst love triangle in the history of ever
My Weekend Ramblings:
This really has turned into more personal posts but I kind of like that.
I talk about why I love reading YA, my YA self and take a trip down memory lane
I talk about my other great love besides books! 
Favorite things in January: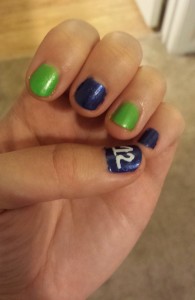 The Seahawks made it into the Superbowl!!! I am beyond excited and am currently typing this wearing my jersey with decked out nails. Go Hawks!!
The Firefly story continues in a 6 issue comic book installment!! It's called Serenity: Leaves on the Wind. If you guys didn't know, I LOVE Firefly and was so excited to see this was happening. So of course I sought out a comic book store and got it and read it — so good! Browncoats forever!
BEA planning! Chelsea found great deals on flights and we now have flights, hotel AND registered for BEA! Do I even need to expound on my excitement for this??? BOOKS, BLOGGERS, NYC! I've never been to BEA. Are YOU going? Yes? Tell me so we can hang out!! (Also, if you've been before and have tips, please share!)
That's it for January for me! What was your favorite read of January?
Related Posts