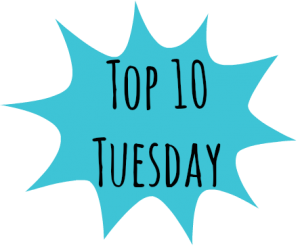 Top Ten Tuesday is a weekly bookish meme hosted by The Broke and the Bookish!
This week we are talking about the top 10 books that make me cry. Now, there are books where I tear up and get emotional and then there are books that have me flat out sobbing and ugly crying. This is my list of sobbing books.
1. If I Stay by Gayle Forman: I was completely ugly crying, like red face, swollen eyes, tears everywhere. You guys, my HEART just went through the blender. I've been too scared to pick up Where She Went!
2. Code Name Verity by Elizabeth Wein: AHHH! This book was so beautiful, featuring the most wonderful friendship. I loved it and then it TORE OUT MY HEART. *deep breath* It was so good.
3. Time Traveler's Wife by Audrey Niffenegger: I have read and reread this book countless times. And while I've read it so much, I STILL cry every single time.
4. Blood Promise by Richelle Mead: I cried in other books in the series too but this one was the most emotional one for me!! Seriously. I was a mess. A complete mess! Rose and Dimitri are one of my all time favorite couples. *clutches book to chest* I had to self medicate with ice cream afterward.
5. Falling into You by Jasinda Wilder: Oh my god. So, the synopsis of the book tells you that it's about a girl who's first love died. So you know this from the get go. Does this prepare you for it? NO. NO NO NO. Heart wrenching you guys.
6. Sentinel by Jennifer L. Armentrout: The conclusion to the Covenant series was absolutely perfect in every way and I couldn't help crying at the end. A lot of emotions going on in this one!
7. Harry Potter and the Order of the Phoenix by J.K. Rowling: After I finished it, I moped around the house for a week, mourning. Seriously. Books affect me a lot. I was so depressed. (And in denial until the end of the series… ha)
8. Harry Potter and the Deathly Hallows by J.K. Rowling: So this book came out the summer I was working as a counselor at horse camp. I basically only had 1 hour off during the day so when my preorder arrived I couldn't binge read it like I had all the others. This killed me. I threatened campers with clean up duty if they so much as hinted at a spoiler. So every day when my 1 hour free time came up, I went to the only private, quiet area to read — the tiny staff kitchen. After I finished, my counselor friend found me sitting on the kitchen floor crying and was like, what happened?? Oh, you know, J.K. Rowling just stabbed me in the heart. Repeatedly. That's all.
9. Pushing the Limits by Katie McGarry: Echo's story broke my heart! But I loved it so!!
10. -insert 10th book here-
What do you guys think? Which ones made you cry?
Related Posts