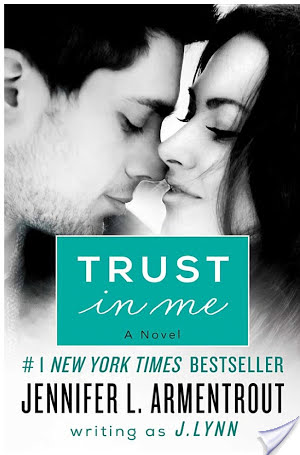 Trust in Me

by J. Lynn
Published by Harper Collins on October 22nd 2013
Genres: Fiction, Romance, New Adult, Coming of Age, Contemporary, Contemporary Women
Pages: 352
Format: eBook
Source: Bought
Buy on Amazon
Goodreads


It's Wait for You as you've never seen it. Trust in Me lets you in on Cam's side of the #1 New York Times bestselling story.
Cameron Hamilton is used to getting what he wants, especially when it comes to women. But when Avery Morgansten comes crashing into his life—literally—he finally meets the one person who can resist his soulful baby blues. But Cam's not ready to give up. He can't get the feisty and intriguing girl out of his head.
Avery has secrets, secrets that keep her from admitting the feelings Cam knows she has for him. Will persistence (and some delicious homemade cookies) help him break down her barriers and gain her trust? Or will he be shut out of Avery's life, losing his first real shot at the kind of love that lasts forever?
I normally am not a fan of story retellings in a different POV because I mean, you've already read the story so you know what happens. However, Wait for You is one of my all time favorite new adult reads and Cam Hamilton a top book boyfriend. So, obviously I had to read this. And while it tells the same story, there are new scenes and it was so good you guys!!
Technically this is considered a novella. Goodreads tells me it is 352 pages so really, it was a fantastically long, pretty much full length novel filled with Cam and more amazing Cam.
Firstly, it was great reading from Cam's point of view because well, I love him and it was so great to be in his head and know exactly what he was thinking as he meets Avery. He is such a genuinely nice guy and is a book boyfriend that will always have a special place in my heart because Wait for You was my first new adult read. He is so patient with Avery, understanding, funny, sexy and a fantastic baker. I know I'm gushing at this point but can anyone really not gush about Cam? 

I think the new scenes contributed to Cam and Avery's story really well! You see Ollie and Jace some more in some of those scenes which is great because 1) Ollie is hilarious and 2) Jace has his own story in Be With Me so it was nice to get more of an introduction to him. I think my favorite thing about the new scenes though is Cam's conversations with his parents. LOVED. Absolutely loved you guys.
Basically, if you've read Wait for You, this is an absolute MUST – like go right now and buy it/borrow it/read it. If you haven't read Wait for You…well what are you waiting for?? Go meet this guy!
My Rating: 
Related Posts