Seriously, it's March now? What is this madness???
Books Read: 
7 books + 1 novella
Favorite Book Read: 
Lover Awakened by J.R. Ward. I flail all over Z here. Seriously, LOVED him and this book in the Black Dagger Brotherhood series!
Reviews on the Blog: 
Pieces For You by Genna Rulon – the one that I liked but didn't LOVE
Trust in Me by J. Lynn – the one where I fell in love with Cam all over again
Throne of Glass novellas by Sarah J. Maas – the one with kickassery assassin business
The Tyrant's Daughter by J.C. Carleson – the one I'm glad I discovered and read
Throne of Glass by Sarah J. Maas – the one that cemented my undying love for fantasy
Features: 
Book Bangin' Sci Fi Boys – the one with one of my top book boyfriends
Book Bangin' Vampires – the one where I go all speechless talking about my hottie of the month
Favorite TTT: Top Ten Books That Will Make You Swoon – the one where I blatantly cheated and included a few more than 10
Favorite Things in February: 
The SEAHAWKS are SUPERBOWL CHAMPIONS! I watched it at two different friends' parties where I was pretty much the sole Seahawk fan. That made things not as fun but whatever, I loved the game and wish I could've gone to their amazing celebration parade! Go Hawks!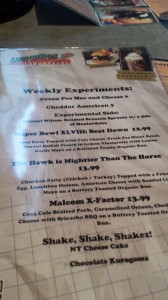 (that's right, I got to visit Seattle over President's Day weekend and I did order the Hawk is Mightier Than the Horse burger. It was delicious!)
Rediscovering angry/angsty music. As I mentioned, life is pretty stressful and sucky right now and so I've been listening to a TON of angry/angsty music. Think Linkin Park, Good Charlotte, Avril Lavigne, Fall Out Boy, Green Day and The Used. I'm not sure if it makes me feel better because it's angsty or because I listened to all of the above all the time in high school and it reminds me of happier times?
Also, I have a huge book haul for February – that will post next week!
That's it for February! What was your favorite read of February?
Related Posts