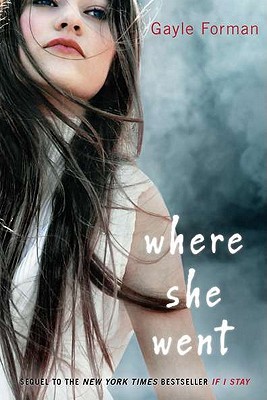 Where She Went

by Gayle Forman
Published by Penguin on April 5th 2011
Genres: Young Adult, Love & Romance, Social Issues, Death & Dying, Performing Arts, Music
Pages: 304
Format: Paperback
Source: Library
Buy on Amazon
Goodreads


The highly anticipated sequel to the New York Times bestselling and critically acclaimed If I Stay
Picking up several years after the dramatic conclusion of If I Stay, Where She Went continues the story of Adam and Mia, from Adam's point of view. Ever since Mia's decision to stay - but not with him - Adam's career has been on a wonderful trajectory. His album, borne from the anguish and pain of their breakup, has made him a bona fide star. And Mia herself has become a top-rate cellist, playing in some of the finest venues in the world. When their respective paths put them both in New York City at the same time, the result is a single night in which the two reunite - with wholly satisfying results.
And don't miss Gayle's newest novel, JUST ONE DAY and the forthcoming companion, JUST ONE YEAR.
It was a long time after I read If I Stay before I read Where She Went. I was scared! If I Stay crushed my heart and had me ugly crying for the majority of the book. I wasn't sure if I was ever going to be emotionally read for Where She Went. Then I got it from the library so I sort of had to read it before I returned it. 🙂
Where She Went takes place 3 years after If I Stay (3!!!). When I initially saw the synopsis, I was just thinking "what the crap?!" Anyway, Mia has been pursuing her music at Juilliard and Adam's band has taken off and reached rock star status. This story is told in Adam's POV and you see his turmoil during these years without Mia. God, it broke my heart.
By a twist of fate, Adam and Mia meet in New York after all that time and explore the city together before they each have to leave the next day. I enjoyed seeing how they interacted but they kept dancing around the big elephant in the room — like, hey Mia, why did you go and break my effing heart?
I think I was mad at Mia for a large part of this book and it detracted from how I felt about the story. Of course the book was emotional, especially the flashbacks and seeing what Adam went through. However, while emotional and while I teared up in a few parts, it wasn't as soul crushing as If I Stay.
Adam Wilde. Oh Adam. My heart ached and I just wanted to hold him for most of the book. I loved that it was in his POV. Was there ever such a perfect boy? One of my favorite aspects of this book was the music and each chapter opened with a snippet of lyrics from one of his songs. It added a lot to the story since the majority of his music is about what he's feeling. It made me wish Adam was REAL so I could go and buy his album because I want to listen to it!!
I really enjoyed this emotional addition to Adam and Mia's story but I think I liked If I Stay more. Maybe If I Stay touched me more or maybe I was just upset at Mia for too long. However, all that to say, Where She Went was still amazing. It was emotional, intense, and Adam and Mia's love story really is one of a kind. They are just perfect. 🙂
My Rating: 
Related Posts