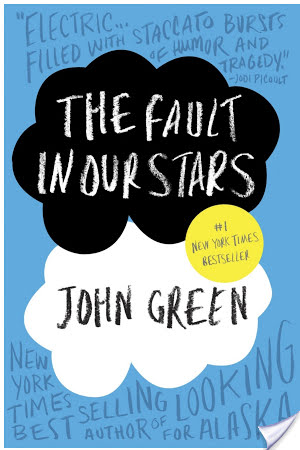 The Fault in Our Stars

by John Green
Published by Penguin on January 10th 2012
Genres: Young Adult, Social Issues, Death & Dying, Self-Esteem & Self-Reliance, Love & Romance
Pages: 336
Format: eBook
Source: Bought
Buy on Amazon
Goodreads


Now a Major Motion PictureTODAY Book Club pickTIME Magazine's #1 Fiction Book of 2012
"The greatest romance story of this decade." —Entertainment Weekly
-Millions of copies sold- #1 New York Times Bestseller#1 Wall Street Journal Bestseller#1 USA Today Bestseller#1 International Bestseller#1 Indie Bestseller
Despite the tumor-shrinking medical miracle that has bought her a few years, Hazel has never been anything but terminal, her final chapter inscribed upon diagnosis. But when a gorgeous plot twist named Augustus Waters suddenly appears at Cancer Kid Support Group, Hazel's story is about to be completely rewritten.
Insightful, bold, irreverent, and raw, The Fault in Our Stars brilliantly explores the funny, thrilling, and tragic business of being alive and in love.
The Fault in Our Stars is something I've put off reading for forever. The subject matter scared me! Kids and cancer. That is a recipe for heart aching disaster for me and for my heart's sake, I put it off. However, with the movie coming out and all, I wanted to read it before watching it. I mentally braced myself. I started reading, preparing to have my heart ripped out.
Now, I don't know if it was the hype or the fact that everyone touts it as a masterpiece, amazing, life changing and all that but… I feel like I didn't have that same connection with it that everyone else did. Which is kind of disappointing to me. I feel like I need to inform: I cry easily. Very easily. I get emotionally invested in all books or movies and I cry during them all the time. I expected to cry. I teared up but I didn't have the gut wrenching sobs I thought I'd go through. I'm not heartless I swear!! The story was sad and touching but I felt disconnected from it.
I think one of the main things that made me feel the disconnect was the dialogue. I realize that Augustus Waters is supposed to be witty and funny and clever and everything but I just can't imagine a 17 year old boy talking the way he does. 17 year olds just don't spout eloquent monologues on the spot! Or even craft them ahead of time as beautifully as he did! It just didn't seem plausible and sometimes Augustus and Hazel's dialogue just came off as pretentious to me. Don't get me wrong, Hazel's snark made me smile but most of the time I found myself tilting my head to one side and thinking, "really? did this speech just happen?"
I can practically see the mob coming for me now. *hides* Granted, there are amazing quotes from this book. They're poignant and insightful and I love it — but it really didn't seem natural coming out of a 16 and 17 year old.
Maybe the dialogue was what took me out of the story enough that I didn't cry. I'm not sure. I don't know what it is. The story was sad to be sure but this book didn't leave the lasting impression on me that I expected it too.
My Rating: 
Related Posts