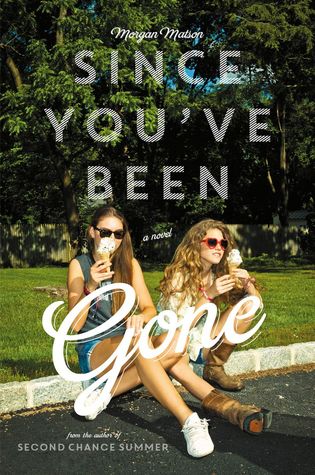 Since You've Been Gone

by Morgan Matson
Published by Simon and Schuster on May 6th 2014
Genres: Young Adult, Social Issues, Friendship, Self-Esteem & Self-Reliance, Love & Romance
Pages: 464
Format: Hardcover
Source: BEA
Buy on Amazon
Goodreads


Emily is about to take some risks and have the most unexpected summer ever in this new novel from the bestselling author of Second Chance Summer and Amy and Roger's Epic Detour.
Before Sloane, Emily didn't go to parties, she barely talked to guys, and she didn't do anything crazy. Enter Sloane, social tornado and the best kind of best friend—someone who yanks you out of your shell.
But right before what should have been an epic summer, Sloane just…disappears. No note. No calls. No texts. No Sloane. There's just a random to-do list with thirteen bizarre tasks that Emily would never try. But what if they can lead her to Sloane?
Apple picking at night? Okay, easy enough.
Dance until dawn? Sure. Why not?
Kiss a stranger? Wait…what?
Getting through Sloane's list will mean a lot of firsts, and with a whole summer ahead of her—and with the unexpected help of the handsome Frank Porter—who knows what she'll find.
Go Skinny Dipping? Um…
Since You've Been Gone was the first book I've read by Morgan Matson and it definitely won't be my last! In fact, I really need to go devour her other books now because I LOVED Since You've Been Gone! It was so relatable and I couldn't stop thinking about it after I finished! Oh, and did I mention I finished it at like 4:30 a.m? Yes. I couldn't put it down! I'm usually more of a fantasy gal, so it did surprise me just how much I adored this one! Now, brace yourselves. This review may be lengthy. I have so much to say and so much love to heap on this book and Morgan!!
Sloane, Emily's best friend, has apparently disappeared without a word, leaving nothing but a list of items she wants Emily to complete. Some are easy, some are hard, and some just seem impossible! But Emily believes that somehow, by completing them, she can find her best friend again. Initially, this one sounded good but it didn't seem that exciting, you know? I was so wrong. It is FULL of amazing, you guys.
FRIENDSHIPS!!
This book spoke so much about friendships and its intangibles! Morgan manages to capture all these moments and intricacies of what friendships and being a friend means/is that was just so spot on and true and RELATABLE. Firstly, I feel like Emily was ME. At the beginning of high school, I was so super shy. Seriously all her awkwardness in the beginning? Completely, totally me back in the day. (I'm pretty much the complete opposite now, haha) But I completely related and understood Emily. Anyway, as she tries to work through the list, she ends up making some new friends and matures and makes huge giant leaps of coming into her own and finding herself. At first it really seems that Emily is very dependent on Sloane and I loved seeing her figure out herself independent of Sloane.
Morgan captures the feeling of a best friend so accurately though. That feeling of knowing you can call them anytime, tell them anything and everything — it can be stupid, frivolous, serious — and tell it all without being judged, but just listened to and accepted. That need to share everything, even if not necessarily important but it's something that happened and immediately, you need to tell them the story. That feeling of having someone be so close to you that you can communicate with a look and the comfort of knowing that they're there for you. ALL of that Morgan manages to pen into this story. She manages to put you there and make you feel things! Sure it's a story about teens but the fundamentals about friendship are the same and I feel like we all want and need these close friendships.
This isn't just shown in Emily and Sloane's friendship though. While trying to complete the list, Emily makes friends with Dawn, Collins and Frank who are all secondary characters that I loved. The nuances of friendships definitely shines through in those relationships as well. Speaking of….
The Unexpected Swoon: FRANK PORTER
Frank Porter is the good guy. He is the class president. He heads up causes and projects and he is the last person Emily thought she would become friends with. Also, the last person to have sneaky amazing abs. He is nice, brilliant, funny, spontaneous and oh god – if I become a cougar, I blame Morgan Matson. Anyway, Frank decides to help her with this list and they have the most fantastically, perfectly paced building friendship of all time. It is pretty much the best thing ever, just trust me on that.
Music!
Morgan includes the playlists Emily and Frank listen to as they go on runs together and I love it. Once again I related to Emily because umm, I freaking love country and all her country song choices just made me smile. Anyway, love having the playlist aspect, just kind of puts you in that moment I think. For some reason, I think of the song Barefoot Blue Jean Night by Jake Owen when I think back on this book. It kind of has that carefree aspect in it.
Anyway, I love how much this book resonated with my soul. I loved watching as Emily worked through the list and opens up and finds her own identity. The portrayal of friendships is so accurate and probably the best book featuring friendships that I've read. This one may have affected me more since I recently just moved and left a lot of close friends. I definitely identified with Emily (on a smaller scale since obviously I can still talk to them) of thinking someone is around and then remembering oh, I can't just go over and see them. I MISS that best friend feeling, of having a partner in crime to talk to, do crazy things with… dance until dawn! 🙂
Final Thoughts:
If you haven't read this yet, don't put it off any longer! It's a perfect summer read and has the most amazing friendship aspect. It will take you back to your first best friend, make you think of the friends you have now, make you miss the ones far away and leave you wanting to make a list for your own faraway friends. 🙂 Like I said, it resonated with my soul. I adored it! In a well ordered universe… everyone would read this book! 😉
Favorite Quote: 
"She had reacted just as I'd hoped she would throughout. She'd been responding at the right moments, making me realize how much I'd missed telling her things — her enthusiasm, her complete lack of judgment, the way that, even when you were wrong, she was on your side."
I love the quote because it makes me think about all the reasons a best friend is a best friend. Also, special thanks to Danielle for finding this quote for me as I frantically scoured my book. 🙂
Tell me about a best friend memory of yours! Have you read this? If so.. talk to me! I feel like I could talk about it for forever!
Related Posts