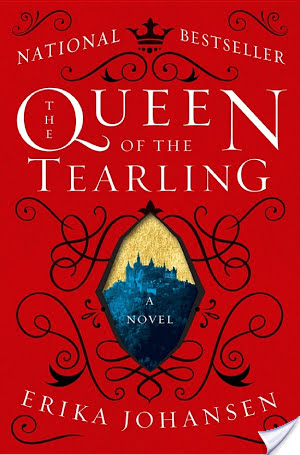 The Queen of the Tearling

by Erika Johansen
Published by Harper Collins on July 8th 2014
Genres: Fiction, Fantasy, General, Literary, Coming of Age
Pages: 464
Format: ARC
Source: BEA
Buy on Amazon
Goodreads


An untested young princess must claim her throne, learn to become a queen, and combat a malevolent sorceress in an epic battle between light and darkness in this spectacular debut—the first novel in a trilogy.
Young Kelsea Raleigh was raised in hiding after the death of her mother, Queen Elyssa, far from the intrigues of the royal Keep and in the care of two devoted servants who pledged their lives to protect her. Growing up in a cottage deep in the woods, Kelsea knows little of her kingdom's haunted past . . . or that its fate will soon rest in her hands.
Long ago, Kelsea's forefathers sailed away from a decaying world to establish a new land free of modern technology. Three hundred years later, this feudal society has divided into three fearful nations who pay duties to a fourth: the powerful Mortmesne, ruled by the cunning Red Queen. Now, on Kelsea's nineteenth birthday, the tattered remnants of the Queen's Guard—loyal soldiers who protect the throne—have appeared to escort the princess on a perilous journey to the capital to ascend to her rightful place as the new Queen of the Tearling.
Though born of royal blood and in possession of the Tear sapphire, a jewel of immense power and magic, Kelsea has never felt more uncertain of her ability to rule. But the shocking evil she discovers in the heart of her realm will precipitate an act of immense daring, throwing the entire kingdom into turmoil—and unleashing the Red Queen's vengeance. A cabal of enemies with an array of deadly weapons, from crimson-caped assassins to the darkest blood magic, plots to destroy her. But Kelsea is growing in strength and stealth, her steely resolve earning her loyal allies, including the Queen's Guard, led by the enigmatic Lazarus, and the intriguing outlaw known simply as "the Fetch."
Kelsea's quest to save her kingdom and meet her destiny has only just begun. Riddled with mysteries, betrayals, and treacherous battles, Kelsea's journey is a trial by fire that will either forge a legend . . . or destroy her.
I received this book for free in exchange for an honest review. This does not affect my opinion of the book or the content of my review.
Here's another fantasy to put on your radar, everyone! This was one that was on my list before I headed to BEA. The premise sounded great and I made it a priority to wait for the drop of it! (It got pretty crazy, but trust me, it was worth it!)
Kelsea Glynn has lived in hiding her entire life and now that she's turned 19, her dead Queen mother's guard shows up to take her back to her throne. Her uncle who currently sits on the throne, doesn't want her back. First obstacle: getting to the castle without being assassinated. But what does she do when she gets there? How is she supposed to rule her country? There are many who want to bring her down, especially those in league with the super scary sorceress Queen of Mortmesme, the country bordering the Tearling.
Kelsea is one kickass heroine. In the face of everything that happens, she gathers herself and thinks not only politically but with her heart, winning the loyalty of the people of the Tearling as well as that of her personal guard. I loved Kelsea because while she can be a force to be reckoned with, she has a sarcastic, snarky sense of humor and it makes her able to be relatable. And did I mention she loves books? I love it when characters love books. 🙂
I loved the Queen's guard. I always have this love for royal guards or anything like that — it's the fierce loyalty they always hold or the I'll-save-you-even-if-it-means-my-life type of thing. It makes my heart squeeze whenever I read characters like that. Mace is Captain of the Queen's guard and he is freaking awesome. There's a lot about him I'm dying to know more about but what we do know is that he is loyal to Kelsea to the core and will protect her above all else. And umm, I do not want to be on the wrong side of him in a fight! They don't call him Mace for no reason!
Now, I have read books with no romance in it and still loved them. I don't NEED there to be kissing in my books. But I couldn't help it, I desperately wanted a hint of it in this one. I mean, it's not that I'm shipping Kelsea with anyone in particular, but maybe Pen or Fetch?? Could we make that happen?? Fetch is a mysterious thief that has come to her aid… but also waited for her to earn his respect. Pen is an adorable guard of hers. I swear I'm not all about the kissing but I really wanted one haha. However, I still loved it even without the romance — which is saying something!
One thing that kind of threw me off about the book is that it seems set in some medieval time with the possibility of some kind of magic — but then there are hints at modern medicine and pop culture. Apparently a lot of technology and medicinal knowledge was lost but it wasn't really clear about that so it was just kind of weird when, for instance, a Harry Potter reference came up. I definitely did a double take and was like waiit, what? Because everything else is very medieval – horses, castles, nothing modern. It'll probably be explained more in the next book, and it didn't bother me THAT much.
I can't wait for the next installment because there are so many things I want to know! I want to know more about the Queen of Mortmesme and Fetch and the Tearling world! And I'm still holding out hope for romance. Haha. If you like fantasy and strong heroines, you really need to pick this up!!
My Rating: 
Related Posts