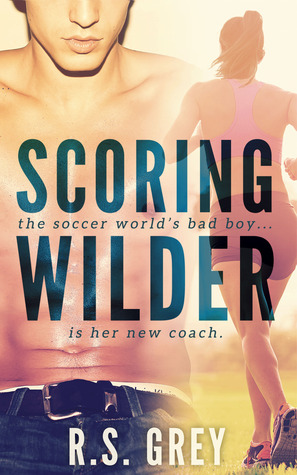 Scoring Wilder

by R.S. Grey
Published by R.S. Grey on June 16th 2014
Genres: New Adult, Contemporary
Pages: 342
Format: eBook
Source: Bought
Buy on Amazon
Goodreads


What started out as a joke— seduce Coach Wilder—soon became a goal she had to score.
With Olympic tryouts on the horizon, the last thing nineteen-year-old Kinsley Bryant needs to add to her plate is Liam Wilder. He's a professional soccer player, America's favorite bad-boy, and has all the qualities of a skilled panty-dropper.
• A face that makes girls weep – check. • Abs that can shred Parmesan cheese (the expensive kind) – check. • Enough confidence to shift the earth's gravitational pull – double check.
Not to mention Liam is strictly off limits . Forbidden. Her coaches have made that perfectly clear. (i.e. "Score with Coach Wilder anywhere other than the field and you'll be cut from the team faster than you can count his tattoos.") But that just makes him all the more enticing…Besides, Kinsley's already counted the visible ones, and she is not one to leave a project unfinished.
Kinsley tries to play the game her way as they navigate through forbidden territory, but Liam is determined to teach her a whole new definition for the term "team bonding."
Are you burned out on New Adult? Are you tired of the angst? Are you tired of the unnecessary drama? Have you sworn off new adult because of these things? Well, look no further because Scoring Wilder is the cure to all your new adult woes! (And if you call and order now, I'll even throw in a free soccer ball and Calvin Klein underwear…)
Okay, I'll drop my Billy Mays impersonation. But I'm serious. If you've gotten tired of new adult because of overused tropes, you need to read Scoring Wilder! It is what new adult needs to be. It is HILARIOUS, fun and lots of sexy times with LIAM WILDER, sexy soccer god.
Firstly, let's talk about the MC Kinsley. She is freaking hilarious. As in, I was laughing out loud for a good majority of this book. She is quirky, fun and runs hard at her dreams. She's also snarky and her inner dialogue was the best. When I want to jump in the book and be BFFs with her and her best friend Becca, you know it's an awesome book.
Now let's move on to Liam. Hellooo Liam. You remember that David Beckham commercial during the Super Bowl last year? It was for like… I dunno, Calvin Klein or H&M or.. something, whatever, that's not important, but Beckham's abs. I immediately thought of that with Liam. Except I imagined Liam hotter. (Hotter than Beckham?? Yeah, I just said that.) So yeah, that's who you're dealing with. Why wouldn't you say yes to reading that? (Hint: you wouldn't, so go buy it and read it now!)
The sports aspect was another thing I loved about this book. I love sporty books. I don't follow soccer too much (mostly just the Seattle Sounders) but I LIKE soccer so it was awesome seeing soccer really incorporated into the story. It's not just a prop, like hey he's super hot because he's a soccer player — well, he is but soccer is actively in the story. Kinsley runs drills. They practice, they train and I loved that incorporation into the book. I know I've asked this before but I'll say it again — where are the other awesome sporty NA? I need more just like this!
What I loved most about Scoring Wilder is that there is no huge dramatic plot point that forces everything to go bad and then things are super angsty and yada yada yada. Obviously not all NA are like that, I'm just generalizing, but I'm just saying that this is everything good that should be in NA. A FUN romance with awesome characters that I adored, and also it's really hilariously funny as a bonus.
My Rating: 
Special shout out to Betty from Book Rock Betty for telling me I needed to read this NOW. I bought it right then and there even though she was only halfway through! 
Are you a fan of sporty books like me? Hit me with some sporty suggestions!
Related Posts