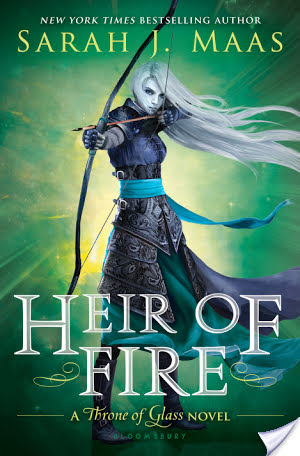 Heir of Fire

by Sarah J. Maas
Series: Throne of Glass #3
Published by Bloomsbury Publishing USA on September 2nd 2014
Genres: Young Adult, Fantasy & Magic, Love & Romance, Action & Adventure, General
Pages: 384
Format: ARC
Source: BEA
Buy on Amazon
Goodreads


Celaena has survived deadly contests and shattering heartbreak-but at an unspeakable cost. Now, she must travel to a new land to confront her darkest truth . . . a truth about her heritage that could change her life-and her future-forever. Meanwhile, brutal and monstrous forces are gathering on the horizon, intent on enslaving her world. Will Celaena find the strength to not only fight her inner demons, but to take on the evil that is about to be unleashed?
The bestselling series that has captured readers all over the world reaches new heights in this sequel to the New York Times best-selling Crown of Midnight. Packed with heart-pounding action, fierce new characters, and swoon-worthy romance, this third book will enthrall readers from start to finish.
I received this book for free in exchange for an honest review. This does not affect my opinion of the book or the content of my review.
Why Did I Read?
It's the long awaited third book in one of my all time FAVORITE fantasy series!! I waited for 2.5 hours in line for this ARC at BEA and I didn't even mind the wait. 
My Thoughts
(There will be no spoilers for Heir of Fire but there will be spoilers from the first two books!)
Heir of Fire is very different from the first two books in the series. It's quieter and focuses a lot on characterization and world building. Many new characters (amazing characters!) are introduced so there was a big focus on developing those characters. I have to admit the first half was pretty slow and I felt myself yearning for a bit more action. But I think the pace was necessary. Celaena is so broken from the events at the end of Crown of Midnight that it's going to take time for her to heal and come back from that. One of the things that made me love Celaena so much in the previous books was her badassery and her confidence, both feigned and real. But the Celaena we see in the beginning is so broken, she just doesn't even care anymore. During her healing process, I came to love a whole new side of Celaena — the steely strength that burns in her, even when almost doused by all the events that have happened to her. She is a wonderfully complex character. 
We meet a new character, Rowan. A Fae, a Prince and Celaena's trainer to whip her into magic shape. He and Celaena strike up such an amazing friendship. I loved that they had such a close relationship without having romantic feelings. (Because I would've thrown down with someone if something gets in the way of my Chaolena ship – I'm just sayin.) While Rowan and Celaena don't get off to the best start, they eventually start to respect each other and forge such a great friendship, it makes my heart so happy.
Speaking of magic training… there is LOTS of magic in this book. Magic, the Fae, Celaena's history and epic, astounding world building. The beginning was a bit difficult for me because I forgot some details from Crown of Midnight so that made it a bit tough keeping relatives and bloodlines straight but I figured it out. And it's SO good you guys, amazing new magic things are happening!
Another new character is Aedion, a Fae general, Celaena's cousin and someone whom I initially despised. But that changed quickly and he quickly became another favorite. Also, is that a fantastic new bromance I spy between him and Chaol? Please yes. Aedion is also a complex character and you will see him in the flashbacks as well. Which is another aspect I adored — the flashbacks. They not only reveal more of Celaena's past but they were emotional on a level I wasn't expecting! I say that this is a slower book, maybe too slow in the beginning, but that made way for beautiful, beautiful scenes that had me tearing up. That is Sarah J. Maas' skill. She weaves such amazing relationships and characters that you will be SO emotionally invested.
I have to say, Heir of Fire gave off almost an adult fantasy vibe, along the lines of Game of Thrones. It's a hefty book! There are also many different storyline arcs happening and sometimes I'd get annoyed, like take me back to Celaena! For instance, Manon, a Blackbeak witch is introduced and she gets a story arc that happens that I at first just wanted to skip past. However, I came to love her story! I can't wait to see how all of this will fit in together.
As amazing as Heir of Fire was, it is a lot slower than the previous two. Don't fret, the last third has some serious action going on. One thing I did sorely miss though, was the romance. There is serious epic swoon in Crown of Midnight and Chaol. Oh Chaol. I love him so hard and for the majority of this book I wanted him to take a stand, be the Chaol I KNOW he is. I just missed the epic, heart stopping swoon that was absent in this one.
In Short…
Heir of Fire is yet another epic installment in the Throne of Glass series! Even though it is slower, there is some seriously amazing character development and world building happening! New characters are introduced that I love and I cannot wait for the next book!! (HOW, seriously, HOW will I manage?)
My Rating: 
Have you read this yet? Thoughts?? Have you not started this series yet? (You NEED to!)
Related Posts