August was a pretty busy month here on the blog! Here's what I've been up to:
 Books Read: 
7 books
Favorite Book Read: 
I actually read a lot of good books in August! Hmm but I'm going to have to say Heir of Fire by Sarah J. Maas!!
Reviews on the Blog: 
Queen of the Tearling by Erika Johansen – the one with a kickass heroine and great new adult fantasy series!
Lady Thief by A.C. Gaughen – the one with an epic ship!!
Scoring Wilder by R.S. Grey – the one with a ridiculously HOT soccer player everyone needs to meet
Dangerous Boys by Abigail Haas – the one that is just creepy and spine tingling and of course, amazingly thrilling
Opposition by Jennifer L. Armentrout – the one with one of my favorite book boyfriends and an amazing ending to the Lux series
Heir of Fire by Sarah J. Maas – the one with astounding world building and magic and character development and amazingness
Landline by Rainbow Rowell – the one that all married people should read
Attachments by Rainbow Rowell – the one that reads like a witty, fun romantic comedy
Features: 
Favorite TTT: Top Characters I Want At My Lunch Table
Book Bangin' – Boys I Want To Be Stuck On A Deserted Island With! 
Favorite Things In August: 
It was my birthday! I am now old (not really, I'll always be young at heart!) I was going to do a giveaway for my birthday but got busy. Watch for a belated one on twitter!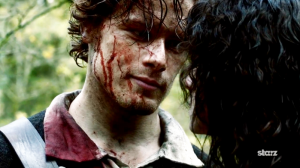 Outlander! I loved the book and I am LOVING the show and loving Jamie! He's hot even streaked with dirt and blood and omg he is just my favorite.
Those are my August highlights! How was the end of your summer? What were YOU up to in August?
Related Posts