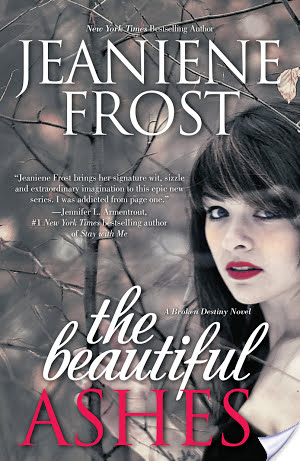 The Beautiful Ashes

by Jeaniene Frost
Series: Broken Destiny #1
Published by Harlequin on September 1st 2014
Genres: Fiction, New Adult, Paranormal, Romance
Pages: 384
Format: ARC
Source: BEA
Buy on Amazon|Buy on Barnes and Noble
Goodreads


In a world of shadows, anything is possible. Except escaping your fate. Ever since she was a child, Ivy has been gripped by visions of strange realms just beyond her own. But when her sister goes missing, Ivy discovers the truth is far worse—her hallucinations are real, and her sister is trapped in a parallel realm. And the one person who believes her is the dangerously attractive guy who's bound by an ancient legacy to betray her. Adrian might have turned his back on those who raised him, but that doesn't mean he can change his fate…no matter how strong a pull he feels toward Ivy. Together they search for the powerful relic that can save her sister, but Adrian knows what Ivy doesn't: that every step brings Ivy closer to the truth about her own destiny, and a war that could doom the world. Sooner or later, it will be Ivy on one side and Adrian on the other. And nothing but ashes in between….
I received this book for free in exchange for an honest review. This does not affect my opinion of the book or the content of my review.
Why Did I Read?
I haven't read Jeaniene Frost's Night Huntress series yet but have heard great things and then this one sounded great! Parallel realms? Paranormal? Romance? Count me in!!
My Thoughts:
So this book started off really jarring for me. It opens and immediately drops you into the action which I like sometimes but here, it left me kind of just trying to get my bearings. And then, Adrian basically drags Ivy with him — to save her, but it feels like he's just kidnapping her because you don't know anything about him at first. Which brings me to my second point of contention with the beginning. Ivy's in kind of a dire situation and she's all, wow this dude is really hot and I kind of want to kiss him. I don't know, I feel like if I was in her position, I'd register the hot guy but also think HMM he just took me in a strange car and oh yeah, I'm tied up. Red flags, anyone? So, that felt weird to me and totally insta-love-y.
However, the world building improves and by mid-way through the book, I got invested in what was going on. The Archons reminded me of the angels in Supernatural, so bonus points there. Once things were explained more, I started to really like how the parallel worlds were set up. That was really interesting I thought and I really liked the other realms and how that was described.
After I got invested in the story, I was able to more get behind the romance. It's still not my favorite thing, mainly because of how it started out, but after getting to know Ivy and Adrian more, I don't dislike it. I think I'll probably like it more in the next book since there's a background established now. So, yeah, even though I had some big reservations after the rocky beginning, I do think I'll be continuing the series because my curiosity is piqued and I'm intrigued by the world now and also what will happen next.
In Short…
While the beginning of The Beautiful Ashes and I didn't get along and there is some definite insta-love involved, at around the halfway point I got really interested in the story. The parallel realm world building came together and I could even get behind the romance more. Even though it took me awhile to get into, I think the rest of the series will just improve!
My Rating: 
What do you guys think of this one, if you've read it? Do you think you'll continue the series? Have you read her Night Huntress series?
Related Posts