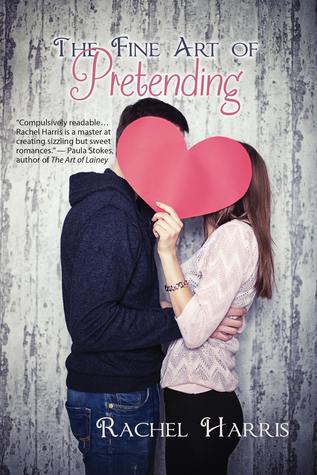 The Fine Art of Pretending

Published by Spencer Hill Press on September 30, 2014
Format: ARC
Source: BEA
Buy on Amazon|Buy on Barnes and Noble
Goodreads


According to the guys at Fairfield Academy, there are two types of girls: the kind you hook up with, and the kind you're friends with. Seventeen-year-old Alyssa Reed is the second type. And she hates it. With just one year left to change her rank, she devises a plan to become the first type by homecoming, and she sets her sights on the perfect date—Justin Carter, Fairfield Academy's biggest hottie and most notorious player.

With 57 days until the dance, Aly launches Operation Sex Appeal and sheds her tomboy image. The only thing left is for Justin actually to notice her. Enter best friend Brandon Taylor, the school's second biggest hottie, and now Aly's pretend boyfriend. With his help, elevating from "funny friend" to "tempting vixen" is only a matter of time.

But when everything goes according to plan, the inevitable "break up" leaves their friendship in shambles, and Aly and Brandon with feelings they can't explain. And the fake couple discovers pretending can sometimes cost you the one thing you never expected to want.
I received this book for free in exchange for an honest review. This does not affect my opinion of the book or the content of my review.
Why Did I Read?
It's a Rachel Harris book! And the fake relationship is one of my favorite tropes. This was my first BEA read. 🙂
My Thoughts:
How does Rachel Harris do it? How?? She captures the teen voice so well! She also has a writing style that just sweeps you up into the story with descriptions that just make you feel like you are in the book and wholly invested in the characters!
In The Fine Art of Pretending Alyssa (better known as Aly) has decided she needs a completely different image at school. She's tired of always being the friend. How to pull this off? She dubs it Operation Sex Appeal. Her best friend Kara is all too excited to give her and her athletic clothes ridden wardrobe a makeover but Aly doesn't tell her and her other best friend Gabi the real secret: she's going to have Justin Carter be her date to homecoming. And the countdown starts now. She recruits her best friend Brandon to be her pretend boyfriend so people will notice the change.
Now, I adore relationships that come from a best friend friendship so I was already super excited to dive in. I was immediately hooked. Aly is easy to like and I loved seeing her journey of discovering her identity. Her character growth was just the best, especially to see how she gained confidence in being herself. Brandon was an important part of being there for her and having her not feel awkward and their friendship is just adorable. However, the lines of their friendship are blurring and as you read their interactions you just ship them together so badly!
I love that even with a relatively simple plot of a pretend relationship, Rachel builds off this with such complexity in her characters. Brandon especially is a lot more complicated that you would expect. She tackles concepts of love, loss and taking chances all so seamlessly. She gives her characters a depth that make you feel like you know them. The things they experience, you feel like you're experiencing. This definitely took me back to high school! (I almost missed it?) Even the secondary characters are well developed and I wanted them to by MY friends.
In Short:
There are sweet moments and funny moments, even moments that will make you tear up. But you will be smiling through this as you read because I know I was! This book was just SO good. You'll cheer for Aly as she comes into her own and also fall irrevocably in love with Brandon. 🙂
My Rating: 
Have you guys read this yet? Fake relationships are one of my favorite tropes; what's yours?
Related Posts