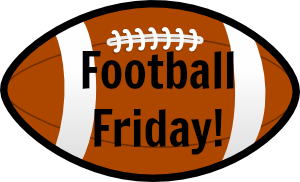 Hey everyone! Today we have a guest post for Football Friday —
Danielle from Love At First Page
! I love love love talking football with Danielle and I'm so excited she wanted to guest post for my new feature! If you're lost,
the kickoff post is here
! :)Without further ado… here she is! Everyone say hi to Danielle!
I'm stoked about Wendy's new feature because football has always been a part of my life. I was born and raised a New York Giants fan, and now my dad says I've surpassed even him on the crazy-psycho-obsessed fan train. My year doesn't rotate around the weather but around football season. There's absolutely nothing like football Sundays.
Football Lite:
Position: Quarterback
Team: New York Giants
Why did I pick him? Who else is there for me, really? I've watched his career with the Giants from the beginning, and not once has he been less than my favorite player. Say all you want about stats and what a piece of paper may tell you, but the truth of the matter is this: Eli can win big games. He's calm and cool under pressure (just watch the 2011 NFC Championship game against the 49ers), and his toughest critic is himself. He's always trying to improve his game. Do I have some complaints? Sure. But I'll take our two Super Bowl victories with him over you Super Bowl-less Tono Romo stans any day of the week. (Yes, I just went there.)
Football Fanatic:
Eli played for the University of Mississippi, and he was the first overall pick in the 2004 NFL draft. What you might not know is that he was originally drafted by the San Diego Chargers amidst many boos. With the fourth overall pick, the New York Giants selected cry-baby Phillip Rivers and traded him for Eli. This sparked a lot of controversy, especially since Eli's dad, Archie Manning, played a significant role in the trade. I say: thank God.
Like I said above, stats aren't going to show you why Eli is such a great quarterback. He won't compare to Tom Brady, Drew Brees, Aaron Rodgers, or big brother Peyton in that regard. What you should know: he's not only a two-time Super Bowl winner but a two-time Super Bowl MVP at that. He helped defeat the heavily favored New England Patriots not once but twice. He holds the NFL record for most fourth-quarter touchdown passes in a season. The man is clutch.
Discuss: After a very rough start to their season, the Giants are now 2-2. Does Eli have it in him to win another Super Bowl?
Football Hottie of the Week:
 Wes Welker, Wide Receiver, Denver Broncos

I figured this was okay, since Wes Welker plays for my husband's favorite team, the Denver Broncos. He's got kind of a crazy eye thing going on, but whatever. He's still hot.
Game to Watch For:
Atlanta Falcons vs. New York Giants
What? Was I really going to pick anything else? Both teams are 2-2, so it's time to figure out who is the real deal and who isn't. Bring it.
Sporty Book Spotlight: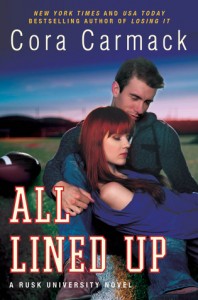 All Lined Up by Cora Carmack
In Texas, two things are cherished above all else—football and gossip. My life has always been ruled by both. Dallas Cole loathes football. That's what happens when you spend your whole childhood coming in second to a sport. College is her time to step out of the bleachers, and put the playing field (and the players) in her past. But life doesn't always go as planned. As if going to the same college as her football star ex wasn't bad enough, her father, a Texas high school coaching phenom, has decided to make the jump to college ball… as the new head coach at Rusk University. Dallas finds herself in the shadows of her father and football all over again. Carson McClain is determined to go from second-string quarterback to the starting line-up. He needs the scholarship and the future that football provides. But when a beautiful redhead literally falls into his life, his focus is more than tested. It's obliterated. Dallas doesn't know Carson is on the team. Carson doesn't know that Dallas is his new coach's daughter. And neither of them know how to walk away from the attraction they feel.
All Lined Up is one of my favorite New Adult books, and it does a fantastic job incorporating football. It's the perfect combination of sexy and sweet, low on the drama and featuring immensely likeable characters. You can find my review here.
—–
Thank you Danielle! I know how much you love Eli so I have been rooting for them JUST for you. 😉 When they play the Seahawks though, sorry, no can do there. 🙂 I can't believe I still haven't read All Lined Up yet, it has all my favorite things ever in it. I'm reading it SOON.
Weigh in! What do you think of the Giants sitting at 2-2 right now? Third Superbowl in store for Eli? Thoughts on Danielle's hottie of the week? (I love Welker!) Have you read All Lined Up yet?
Related Posts