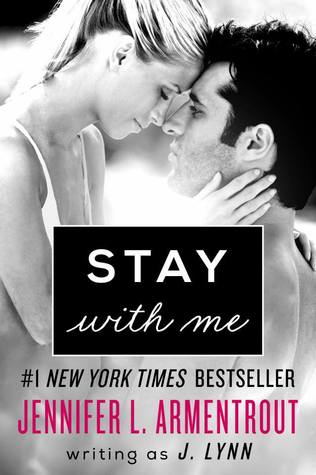 Stay with Me

by J. Lynn
Series: Wait For You #3
Published by HarperCollins on September 23rd 2014
Genres: Coming of Age, Contemporary, Fiction, New Adult, Romance
Pages: 448
Format: Paperback
Source: Bought
Buy on Amazon|Buy on Barnes and Noble
Goodreads


The #1 New York Times bestselling author of Wait for You and Be with Me returns with a daring tale that pushes boundaries . . . in which a young woman learns that you can't run from your past—no matter how far you goAt twenty-one, Calla hasn't done a lot of things. She's never been kissed, never seen the ocean, never gone to an amusement park. But growing up, she witnessed some things no child ever should. She still carries the physical and emotional scars of living with a strung-out mother, Mona—secrets she keeps from everyone, including her close circle of college friends.But the safe cocoon Calla has carefully built is shattered when she discovers her mom has stolen her college money and run up a huge credit card debt in her name. Now Calla has to go back to the small town she thought she'd left behind and clean up her mom's mess again. Of course, when she arrives at her mother's bar, Mona is nowhere to be found. Instead, six feet of hotness named Jackson James is pouring drinks and keeping the place humming.Sexy and intense, Jax is in Calla's business from the moment they meet, giving her a job and helping her search for Mona. And the way he looks at her makes it clear he wants to get horizontal . . . and maybe something more. Before Calla can let him get close, though, she's got to deal with the pain of the past—and some very bad guys out to mess her up if she doesn't give them her mom.
Why Did I Read?
It's the third installation in the Wait For You series! Need I say more? Plus, I'd been hearing all sorts of things about sexy Jax and obviously needed to meet him.
My Thoughts:
There are some random things that I am majorly attracted to. Bartenders. (I always think Wade from Heart of Dixie) Marines. (They're just so young and off fighting! Pulls at my heart.) Guess what. Jax is an ex-marine bartender. Well hello man of my dreams.
This one had a different feeling from the first two in my opinion. I can't put my finger on what exactly it was but just a different feel. I LOVED it though. It's the longest of the series so far and I think that really developed the characters and progressed Calla and Jax's relationship perfectly!! I LOVED that it was a long book.
Calla has a pretty tragic childhood let's just say. She hasn't stepped foot back in her old town for years but now she's forced to because her mother has cleaned out her bank accounts and she needs the money to finish school. She steps into a whole big mess. A mess that involves drugs, drug dealers, guns, shooting and scary things. I personally thought that storyline was really interesting. Not quite sure how… accurate? or probable it all is (I don't have experience in the drug ring world, haha) but it was suspenseful and interesting!
Enter Jax. He's working at Calla's mom's bar and he is one big protective bear about Calla. Which is totally endearing. And he is SEXY. I'm just saying. He needs a Caution: Extremely Hot label or something. Anyway, Calla finds him puzzling because he doesn't seem to care about her big scar on her face. Which brings me to Calla's biggest issue: her self confidence because she carries a lot of scars – physical and emotional. I loved seeing her deal with this throughout the book and how Jax helped booster her self confidence. She matures so much and overcomes a lot of hurdles and it made me so happy to see her tackle these big issues and overcome them. Jax on the other hand also has had quite a difficult past and seeing him talk about his family and his marine days just squeezed my heart.
Speaking of tackling big issues.. there is a particular scene that made me teary because I loved it so. It's a scene involving Avery, Teresa and Calla and I just wanted to freaking group hug them all. I love that all these characters are prominent in the successive books!
The next book is going to be about Roxy, the most adorable girl ever, and Reece, Jax's best friend who's a cop. I can't wait!
In Short…
Jennifer Armentrout delivers yet another engaging, amazing book featuring a sexy sexy man and a relationship that progresses so well. You will fall in love with Jax and Calla! (Although I think Cam still holds that #1 spot in my heart. He's special. 🙂 )
My Rating:  1/2
Have you read this series yet? Who is your favorite guy in the Hot Guy Brigade? 🙂 Is it even possible to choose?
Related Posts