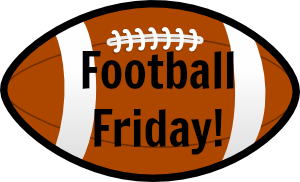 It's time for Football Friday! This week the player I'm featuring is:
Drew Brees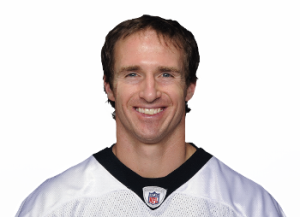 Football Lite: 
Position: Quarterback
Team: New Orleans Saints
Why did I pick him? Drew Brees is a record setting quarterback who is also such a big cornerstone of his community! After Hurricane Katrina, the Saints weren't able to practice in New Orleans and had a pretty sad season — the following year, Drew Brees led them to win the NFC South! He and his wife are also very involved in many charity foundations. They founded the Brees Dream Foundation (to support cancer patients and research). After Brees joined the Saints, his foundation also assisted in rebuilding in New Orleans after Katrina.
He also has the most adorable little kids! He always seems very involved with his family and that's just awesome. They most recently had a baby girl a few months ago!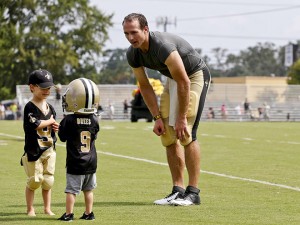 (Seriously, how adorable is this)
Football Fanatic: 
Brees played for Purdue and was drafted by the San Diego Chargers in the first pick of the second round in 2001. He played for the Chargers until 2006 when he signed with the New Orleans Saints. As mentioned in the Football Lite section, in his first season with the Saints and also the first season after Katrina, he led them to win the NFC South! He has since passed and set many many records including breaking Dan Marino's 27 year old record for most passing yards in a season! He broke it in 2011, ending with a season long 5,476 passing yards. (Okay, and then Peyton Manning broke it last year with 5,477 yards. By one yard!)
One interesting factoid about Drew Brees' performance is that, at least in last season, he had a huge disparity in home vs away games. 29 total TDs at home, 13 TDs away. I think it's evened out this year, so far. I'm thinking it's because they play in a dome at home?
Anyway, he led the Saints to their first Superbowl win in the 2009 season! After that win, he was named the 2010 Sportsman of the Year, for leading the Saints to the Superbowl and for all his contributions and charity work in rebuilding New Orleans.
Discuss: Since then, the Saints unfortunately haven't looked quite as good. They're at 4-4 right now so I guess they are currently winning their division though. Is another Superbowl run in his future?
Football Hottie of the Week: 
Zach Ertz, Tight End, Philadelphia Eagles

Game to Watch For: 
Denver Broncos vs New England Patriots
Manning Brady Bowl! It's always fun when these two play against each other. Did you know that Brady has won 10 out of the 15 times these two have met? (Although, Manning has a career passing rating of 97.9 – ranking second all time – and Brady has a rating of 96.1. Very close!) Both of them have been on fire lately. I have a feeling this will be an awesome shoot out and a lot of fun to watch!
Sporty Book Highlight: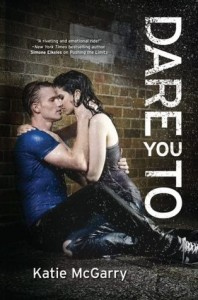 Dare You To by Katie McGarry
Ryan lowers his lips to my ear. "Dance with me, Beth." "No." I whisper the reply. I hate him and I hate myself for wanting him to touch me again…. "I dare you…" If anyone knew the truth about Beth Risk's home life, they'd send her mother to jail and seventeen-year-old Beth who knows where. So she protects her mom at all costs. Until the day her uncle swoops in and forces Beth to choose between her mom's freedom and her own happiness. That's how Beth finds herself living with an aunt who doesn't want her and going to a school that doesn't understand her. At all. Except for the one guy who shouldn't get her, but does…. Ryan Stone is the town golden boy, a popular baseball star jock-with secrets he can't tell anyone. Not even the friends he shares everything with, including the constant dares to do crazy things. The craziest? Asking out the Skater girl who couldn't be less interested in him. But what begins as a dare becomes an intense attraction neither Ryan nor Beth expected. Suddenly, the boy with the flawless image risks his dreams-and his life-for the girl he loves, and the girl who won't let anyone get too close is daring herself to want it all….
I LOVE Katie McGarry. McGarry boys are the swooniest and RYAN STONE, you guys. The sweetest, nicest, baseball player. My full review can be found here, and I'll also be talking about him in my book bangin' post this month! (Category this month is athletes! That post will be up on Monday!)
What do you guys think about Drew Brees and the Saints' chances this year? They ARE currently winning their division at 4-4. Also – how cute is Zach Ertz! Doesn't he look like Channing Tatum?? How excited are you all for Manning Brady Bowl. I can't wait! Have you all read Dare You To? If you haven't read Katie McGarry, you really need to get on that!
Related Posts