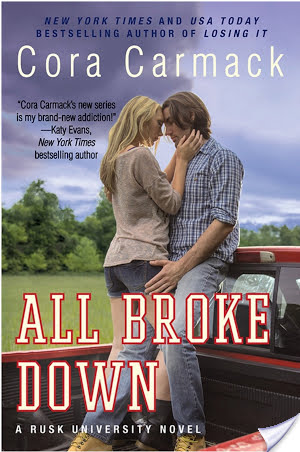 All Broke Down

by Cora Carmack
Series: Rusk University #2
Published by Harper Collins on October 28th 2014
Genres: Coming of Age, Contemporary, New Adult, Romance, Sports
Pages: 368
Format: eBook
Source: Bought
Buy on Barnes and Noble
Goodreads


In life, you can't only fight for what you believe in . . .sometimes you have to fight for what you loveDylan fights for lost causes. Probably because she used to be one.Environmental issues, civil rights, education—you name it, she's probably been involved in a protest. When her latest cause lands her in jail for a few hours, she meets Silas Moore. He's in for a different kind of fighting. And though he's arrogant and not at all her type, she can't help being fascinated with him. Yet another lost cause.Football and trouble are the only things that have ever come naturally to Silas. And it's trouble that lands him in a cell next to do-gooder Dylan. He's met girls like her before—fixers, he calls them, desperate to heal the damage and make him into their ideal boyfriend. But he doesn't think he's broken, and he definitely doesn't need a girlfriend trying to change him. Until, that is, his anger issues and rash decisions threaten the only thing he really cares about, his spot on the Rusk University football team. Dylan might just be the perfect girl to help. Because Silas Moore needs some fixing after all.
Why Did I Read?
I loved All Lined Up so I was eager to dive back into the Rusk University football world!
My Thoughts:
Silas Moore, you guys. I still need to finish the Losing It series but Silas is my favorite of Cora's men thus far. I adored his character and the depth that she brought to him. He's not just the despicable jerk we saw in All Lined Up. I think we caught a glimpse of him as something more in the first book when he supported Carson, but we see more of why that is in this one. We learn about Silas' past and we see his passion for the game of football. Oh, I loved the passion he showed, both on and off the field.
Has anyone watched Friday Night Lights? Silas reminded me so much of Tim Riggins on that show — so much so that I would get their positions mixed up, haha. I loved Tim Riggins! And his emotion and anger definitely was like Silas. But that's also what I loved about Silas — emotion rules his actions, which sometimes isn't great. But his passion for the game, for Dylan — man, loved it.
I really enjoyed Dylan as well! She meets Silas in jail, of all places, after she'd gotten arrested during a political protest. She wants to make a difference in the world and I really admired her passion in the causes she supported. She's never met anyone quite like Silas and I loved seeing them together! Their sparks and chemistry flew off the pages. They ramped up the steam, that's for sure! Dylan is just what Silas needs when things are falling apart for him and I liked how they made each other confront certain things in their lives and learn from it. They were so good for each other.
And Silas. He was so well developed. He has all these images of himself based on his past that is really messing with how he handles things in the present. His character's progression was amazing, I loved seeing how he grew and how he was able to get past certain things. I really enjoyed seeing characters from the first book in the story as well, like Carson and Dallas and obviously Coach. I think one of my favorite scenes is one with Silas and Coach. One of my favorite things about football is seeing the heart and passion in players and you can see it SO much in this book and especially in Silas. It makes me want to yell clear eyes, full hearts, can't lose! even though, yes, I know that's from Friday Night Lights. 🙂
The secondary characters are also fantastic — Torres and Isaiah, Silas' roommates in particular. Torres is hilarious and Isaiah is a stabilizing force. And Stella! I can't wait to read more about these people!
There is one thing that wasn't my favorite in this book and that was something that happened near the end. I think it was to set up events in the next book but it happened during a scene in which I wish could have been longer and a full, complete scene by itself. I just wanted more words to be said before it transitioned. So that kind of took away from the book a bit, but honestly, other than that, I loved this.
In Short…
I love this football series from Cora and can't wait for more. If you're a fan of sporty romances, or just good romance in general, read this series! The football is an added bonus because it speaks to my football loving soul. (I swear, I'd be like a mix of Dylan's friend Matt — hyperventilating if I met these guys — and Stella — just loving football so damn much and knowing everything about it.)
My Rating: 
Have you read this series yet? What did you think? Who is your favorite Cora man so far?
Related Posts