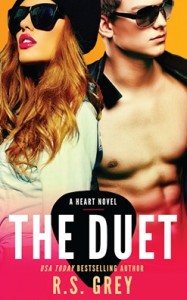 The Duet

by R.S. Grey
Published by Self published on November 8th 2014
Genres: Contemporary, Fiction, New Adult, Romance
Pages: 320
Format: eBook
Source: Bought
Buy on Amazon
Goodreads


When 27-year-old pop sensation Brooklyn Heart steps in front of a microphone, her love songs enchant audiences worldwide. But when it comes to her own love life, the only spell she's under is a dry one. So when her label slots her for a Grammy performance with the sexy and soulful Jason Monroe, she can't help but entertain certain fantasies... those in which her G-string gets more play than her guitars'. Only one problem. Jason is a lyrical lone wolf that isn't happy about sharing the stage—nor his ranch — with the sassy singer. But while it may seem like a song entitled 'Jason Monroe Is an Arrogant Ho' basically writes itself, their label and their millions of fans are expecting recording gold…They're expecting The Duet.
Why Did I Read?
I LOVED Scoring Wilder by R.S. Grey and was very excited when her new book came out! Made plans to buddy read with Betty and couldn't wait to start.
My Thoughts:
You guys, I'm so sad and disappointed. I was looking forward to this so much and I unfortunately didn't like it and it breaks my heart ot give it a low rating. 🙁
Anyway, so Brooklyn Heart and Jason Monroe have to collaborate on this duet for the Grammy's. Jason comes off as a brooding, sexy, musician. He's kind of a jerk and is not happy about collaborating with Brooklyn but their record demands they do so he hauls her off to Montana because that's where he writes best.
The same humor in Scoring Wilder is present here as well and it's hilarious. I loved Brooklyn and I loved that signature humor. However, I didn't buy the romance or relationship. It turns into a friends with benefits that turns into something more trope and I've read plenty of these tropes and have enjoyed them. However, for these things to "turn into something more", you kind of need SOMETHING to BE there. I swear that Brook and Jason didn't have an actual conversation for a good 2/3 of the book. I didn't buy the romance at all.
Jason's character was not developed. When we meet him, he's a broody, sexy musician and at almost 70% that's still all I really know about him. I kept waiting for him to show something else, to give me a glimpse of something else but to be honest, after I finished I still couldn't tell you much about him. His character was really flat. For so much of the book he just had no likable qualities outside of being hot and having a great voice. And I was waiting. I couldn't get invested in the romance because I didn't really like him and honestly — I didn't sense the romance at all. Whenever Brook thinks about him, I'm like WHY? What about him is drawing you to him? Because I don't see a personality here…
Brook and her sister Cammie were hilarious and the humor is the singular bright spot in this book. I felt like Jason could have been so much more, if he had just been developed further. You know there's an issue when I meet a small secondary character and I kind of love him more than the supposedly swoony musician.
It hurts me to give this low rating. It really does. However, I'll still read the next book and also her other ones because that is how much I loved Scoring Wilder. I'm trying to be optimistic that this is just a miss for me and the other ones won't be.
In Short…
The Duet was sadly disappointing. There is funny, snarky humor but with a main character that is flat and not developed, I couldn't get invested or believe in the romance.
My Rating:

(My Scoring Wilder review here — if you're looking for a good swoon and sporty romance, read THAT.)
Have you guys had books that sorely disappointed you? If you've read this — were you saddened like I was?
Related Posts