The 2014 End of Year Book Survey is hosted by Jamie over at The Perpetual Pageturner!
2014 Reading Stats:
Number of books your read: 75 — this is 36 less than last year!!! So sad. But this year was very busy so that's why. Hoping to aim high for next year!
Number of Re-reads: 1. It was Where She Went because I desperately needed to reread it after I watched the If I Stay movie. But I am going to reread more in 2014! I have so many favorites I want to revisit! Hopefully Kelly and Hannah's Re-Read challenge will help with this goal. 🙂
Genre you read the most from: Contemporary — who am I?? I really want to read more fantasy next year — it was my first love, after all!
Best in Books:
1. Best Book You Read In 2014?
Okay when I'm torn over "best", I see what my heart does when I think about the book and judge from there and in this case, I'd have to say Crown of Midnight by Sarah J. Maas. I clearly started 2014 off right because I started it reading the TOG novellas and Throne of Glass, then Crown of Midnight. I loved Heir of Fire too but Crown of Midnight is my favorite!! What can I say. I'm a shipper.
2. Book You Were Excited About & Thought You Were Going To Love More But Didn't?
The one that jumps to mind is The Duet by R.S. Grey. I LOVED her book Scoring Wilder with a passion — loved loved loved. I was so excited when The Duet came out and I was expecting to love it the same. It wasn't even close, I didn't even like it! I was really sad. 🙁
 3. Most surprising (in a good way or bad way) book you read in 2014? 
 Since You've Been Gone by Morgan Matson — I wasn't expecting to love it so much! Contemporary's not usually my go-to genre so I think I was surprised at how I couldn't put it down and how it stuck with me. 
4. Book You "Pushed" The Most People To Read (And They Did) In 2014?

 I feel like the book(s) I talked about the most to my friends and tried to force them to read has to be the Throne of Glass series by Sarah J. Maas. You're welcome!
 5. Best series you started in 2014? Best Sequel of 2014? Best Series Ender of 2014?

Best series started: Throne of Glass. Sorry not sorry that I keep bringing these books up. Just… ALL THE LOVE for that series!
Best Sequel: All Broke Down by Cora Carmack — I adore Silas and just loved him and Dylan's story and all the football! <3
Best series ender: Ruin and Rising by Leigh Bardugo! It was perfection!
 6. Favorite new author you discovered in 2014?
 Emery Lord! Open Road Summer was one of my favorites from 2014!
7. Best book from a genre you don't typically read/was out of your comfort zone?

 I'm actually not sure about this one because I will read pretty much anything…
 8. Most action-packed/thrilling/unputdownable book of the year?

I'm going to go with more the thrilling route — Dangerous Boys by Abigail Haas. I really wanted to know WHAT happened!! It was a crazy ride, that's for sure.
 9. Book You Read In 2014 That You Are Most Likely To Re-Read Next Year?
I swear I'm trying not to repeat, but I would love to be able to reread the Throne of Glass books before TOG4 comes out next fall!
10. Favorite cover of a book you read in 2014?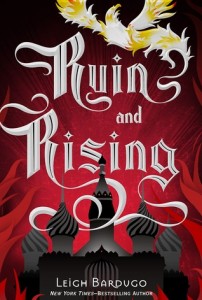 I love the typography on Ruin and Rising! And it's just epic and pretty!
11. Most memorable character of 2014?

Celaena Sardothien. I want to BE her!
 12. Most beautifully written book read in 2014?
 Where She Went by Gayle Forman. So many amazing quotes that I love in that book!
13. Most Thought-Provoking/ Life-Changing Book of 2014?
 I want to say Landline by Rainbow Rowell — it was kind of introspective and definitely thought provoking.
 14. Book you can't believe you waited UNTIL 2014 to finally read? 
 Thief by Tarryn Fisher. I think I started the series at the end of 2013 and then somehow didn't read the series ender until way in April! Amazing, by the way. This series was a strange one for me in the sense that I almost didn't like the first book and ended up loving this series! Everyone needs to read it.
 15. Favorite Passage/Quote From A Book You Read In 2014?
Most likely something from one of my faves I've already mentioned. I don't have a good system to keep track of my fave quotes so it's hard for me to look them up. 🙁
16.Shortest & Longest Book You Read In 2013?
Longest: The Bronze Horseman by Paullina Simons – so worth every page!
Shortest: Poison Dance by Livia Blackburne at 86 pages
 17. Book That Shocked You The Most

Nocte by Courtney Cole. I reached the end and was like WHAT. NO. THAT'S THE END?? Then I looked up the next book and freaked out some more that it wasn't out yet and then pre-ordered it. Yup. It's a crazy one. You guys need to check it out if you're looking for a psychological thriller type book!!
18. OTP OF THE YEAR (you will go down with this ship!)

CHAOLENA FOREVER AND EVER AND EVER AND EVER I may love Rowan and all but NOT in this ship buddy.
19. Favorite Non-Romantic Relationship Of The Year
 I loved loved loved the friendship between Sloane and Emily in Since You've Been Gone by Morgan Matson. ADORED the friendship to pieces.
20. Favorite Book You Read in 2014 From An Author You've Read Previously
 Inspire by Cora Carmack — I read Cora first pretty close to when I first started blogging and I just read Inspire and loved it! Have you been dying for more NA paranormal? Look no further!!
21. Best Book You Read In 2014 That You Read Based SOLELY On A Recommendation From Somebody Else/Peer Pressure:
 Betty told me to read Scoring Wilder. I hadn't heard of it before, didn't know anything about it and just 1 clicked and read asap because hey, Betty knows her book boys!
22. Newest fictional crush from a book you read in 2014?

I have crushes all over the place from books I read in 2014! This question is impossible! Off the top of my head, CHAOL (that was a big duh), Frank Porter, Liam Wilder, Deke Ryan, Wilder Bell, Silas Moore, Jax James, Alexander (crap what was his last name?? from the Bronze Horseman), Z!!! Okay I'll stop now but see? So many book boys.
23. Best 2014 debut you read?
 Open Road Summer by Emery Lord!! I adored it!!
24. Best Worldbuilding/Most Vivid Setting You Read This Year?
You guys, the world building in Heir of Fire is seriously the BEST THING EVER IN THIS WORLD.
25. Book That Put A Smile On Your Face/Was The Most FUN To Read?

I was legit laughing out loud in Scoring Wilder — the sense of humor in it is just hilarious. I kept texting quotes to Betty while I read and laughed.
26. Book That Made You Cry Or Nearly Cry in 2014?
I cried a lot in Second Chance Summer by Morgan Matson. 🙁 It hit close to home too.
27. Hidden Gem Of The Year?

Chronicles of a Lincoln Park Fashionista by Aven Ellis. I don't read that much chick lit but I can't resist Aven! She writes the best, sweetest romances and you all need to check her out!
28. Book That Crushed Your Soul?
The Bronze Horseman by Paullina Simons. I'm pretty sure this book is the definition of soul crushing.
29. Most Unique Book You Read In 2014?
I'm drawing a blank on this one. Rec me unique books!
30. Book That Made You The Most Mad (doesn't necessarily mean you didn't like it)?
Ghost House by Alexandra Adornetto. Umm I really didn't like this one and was basically muttering under my breath at many things while reading.
Your Blogging/Bookish Life:
1. New favorite book blog you discovered in 2014? 
This is crazy because I feel like I've known Danielle for longer but I think I discovered her in 2014! She blogs at Love At First Page and I <3 you! 🙂
2. Favorite review that you wrote in 2014? 
Hmmm I don't think this is my most eloquent review ever but it was a hard one to write because I loved the book so much. It'd be for Ruin and Rising by Leigh Bardugo, found here.
3. Best discussion/non-review post you had on your blog?
I was REALLY excited about my Football Friday feature where I talked football and sporty books! Unfortunately I've gone like a month+ without posting on it because things have been crazy busy, but hey — I've still got playoffs to post some! 🙂 Here was my kick off post for that.
4. Best event that you participated in (author signings, festivals, virtual events, memes, etc.)?
BEA was freaking amazing! I absolutely LOVED meeting all my blogging friends in real life finally and hanging out with them! I got to meet so many authors there but honestly, my favorite part was hanging out with all the people I wish lived close to me!
5. Best moment of bookish/blogging life in 2014?
 I'll have to repeat myself then and say BEA again. That was an awesome week! From squeezing five of us into one hotel room to waiting 2.5 hrs in line to meet Sarah J. Maas — it was all amazing!
7. Most Popular Post This Year On Your Blog (whether it be by comments or views)?
I'm not sure!
8. Post You Wished Got A Little More Love?
Probably some review but I appreciate anyone and everyone who reads my words!
9. Best bookish discover (book related sites, book stores, etc.)?
I discovered book outlet and I'm not sure that's a good thing. Super cheap books? That's like a black hole.
10.  Did you complete any reading challenges or goals that you had set for yourself at the beginning of this year?
I was really far off of my GR challenge but it was a crazy busy year. It's a new year now and I set my goal again — hoping to get lots of reading done this year!  
1. One Book You Didn't Get To In 2014 But Will Be Your Number 1 Priority in 2015?
Like my entire TBR. I'll say Sea of Tranquility by Katja Millay. Been meaning to read it for forever, and I got it for Christmas! 🙂
2. Book You Are Most Anticipating For 2015 (non-debut)?
I absolutely cannot wait for TOG4!! 
3. 2015 Debut You Are Most Anticipating?
The Witch Hunter by Virginia Boeker — this sounds like an absolutely fascinating fantasy and I can't wait for this one!!
 4. Series Ending/A Sequel You Are Most Anticipating in 2015?
If you've been following closely to this survey, I bet you already know the answer to this one. TOG4. 🙂
5. One Thing You Hope To Accomplish Or Do In Your Reading/Blogging Life In 2015?
Bring my netgalley feedback percentage up! It's pretty bad where it's at right now. I need to get on top of that.
6. A 2015 Release You've Already Read & Recommend To Everyone:
I think the only 2015 release I've already read is The Return by Jennifer Armentrout! I really enjoyed it!! Especially for fans of her Covenant series, obviously, and if you're a fan of Greek mythology! 
If you could, I'd love you to leave some feedback for any questions you'd LIKE to see on this survey in the future that perhaps I don't have on here!
Related Posts