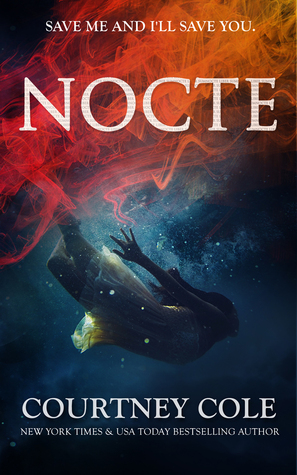 Nocte

by Courtney Cole
Series: The Nocte Trilogy #1
Published by Lakehouse Press Inc on November 3, 2014
Genres: New Adult, Thriller
Pages: 321
Format: eBook
Source: Bought
Buy on Amazon
Goodreads


My name is Calla Price. I'm eighteen years old, and I'm one half of a whole. My other half-- my twin brother, my Finn-- is crazy. I love him. More than life, more than anything. And even though I'm terrified he'll suck me down with him, no one can save him but me. I'm doing all I can to stay afloat in a sea of insanity, but I'm drowning more and more each day. So I reach out for a lifeline. Dare DuBray. He's my savior and my anti-Christ. His arms are where I feel safe, where I'm afraid, where I belong, where I'm lost. He will heal me, break me, love me and hate me. He has the power to destroy me. Maybe that's ok. Because I can't seem to save Finn and love Dare without everyone getting hurt. Why? Because of a secret. A secret I'm so busy trying to figure out, that I never see it coming. You won't either.
Why Did I Read?
Chelsea was raving about this book and how it was super twisty and so good — I always trust her book recs so I had to check it out!
My Thoughts:
You know those psychological thriller movies? That is exactly what Nocte felt like! I could almost envision it happening like a movie in my head. I mean, even the synopsis. I understood nothing about what the book could be about when I read the synopsis so I pretty much just took the leap knowing Chelsea thought it was amazing. And because this reads so much like a psychological thriller, this review is most definitely spoiler free. It'll probably also be short because I want to be as vague as possible.
Basically, at the beginning of the book, Calla Price and her twin brother and their father are trying to get by after tragedy strikes their family. Her twin brother, Finn, is not entirely all there. So she accompanies him to his therapy sessions at the hospital. That is where she meets Dare DuBray. He's mysterious from the get-go and Calla strikes up a relationship with him. Meanwhile Finn seems to be getting worse.
This is very much a page turner because I kept having all these different theories in my head of what was going on (they were all wrong by the way) and I just had so many questions. I know this review is short but I really don't want to give much away. You really need to into this with a blank slate and just read. When I got to the end, I about threw my kindle across the room because HELLO cliffhanger. I preordered the sequel right then and there and I can't wait until it comes out! (Feb. 2nd!! So close!)
My Rating: 
Related Posts