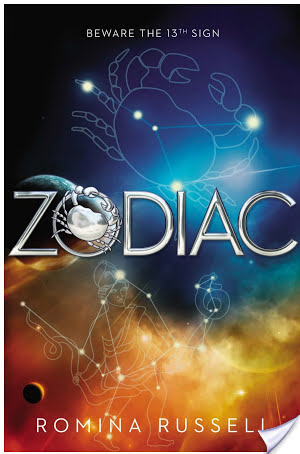 Zodiac

by Romina Russell
Published by Penguin on December 9th 2014
Genres: Fantasy & Magic, Science Fiction, Young Adult
Pages: 336
Format: ARC
Source: BEA
Buy on Amazon
Goodreads


At the dawn of time, there were 13 Houses in the Zodiac Galaxy. Now only 12 remain.... Rhoma Grace is a 16-year-old student from House Cancer with an unusual way of reading the stars. While her classmates use measurements to make accurate astrological predictions, Rho can't solve for 'x' to save her life—so instead, she looks up at the night sky and makes up stories.When a violent blast strikes the moons of Cancer, sending its ocean planet off-kilter and killing thousands of citizens—including its beloved Guardian—Rho is more surprised than anyone when she is named the House's new leader. But, a true Cancrian who loves her home fiercely and will protect her people no matter what, Rho accepts.Then, when more Houses fall victim to freak weather catastrophes, Rho starts seeing a pattern in the stars. She suspects Ophiuchus—the exiled 13th Guardian of Zodiac legend—has returned to exact his revenge across the Galaxy. Now Rho—along with Hysan Dax, a young envoy from House Libra, and Mathias, her guide and a member of her Royal Guard—must travel through the Zodiac to warn the other Guardians.But who will believe anything this young novice says? Whom can Rho trust in a universe defined by differences? And how can she convince twelve worlds to unite as one Zodiac?
I received this book for free in exchange for an honest review. This does not affect my opinion of the book or the content of my review.
Why Did I Read?
I got an ARC of this from BEA and the cover is gorgeous! The premise also sounded so interesting – sci fi with zodiac houses? Cool, right?
My Thoughts:
Unfortunately, I really didn't like this book. I almost DNFed it but for some reason I kept thinking it was going to pick up. But it didn't.
Basically the main character, Rho, is thrust into a leadership position after a huge tragedy strikes, leaving thousands dead. She's gifted for her age but people really aren't that keen about her being the Guardian because well, she is super young and also — she thinks the cause of everything going wrong is an enemy that is only known in children's stories. So, she spends the rest of the book going from Zodiac House to Zodiac House trying to convince people. No, really, that's all she does. At least that's what it feels like.
Things started feeling really repetitive — she tells people, they don't believe her, tragedy strikes. Rinse, repeat. I kept waiting for something to happen. But I could not get invested. The big part that bugged me? Info dumping. I understand there is a lot to explain in sci fis and fantasies but there was so much info dumping. The concept itself of the Zodiac houses set in space is really cool, but there was SO much info that I honestly couldn't remember it all and then just got sick of going through paragraphs of big explanations. I think at one point I was just thinking, man, these pages are really big and there are so many words! Ha.
Anyway, then we have the love triangle. I'm not adverse to love triangles, strictly speaking. But they can go wrong really easily and honestly, I didn't feel like a triangle was necessary at all here. One guy is, of course, the nice guy she's been crushing on forever. The other is someone charismatic and somewhat of a bad boy. The first felt like instalove and the second just felt expected. I didn't like either. I just really didn't like the romance, period. Plus, Rho was really wishy washy between the two and that drives me nuts. I just started to…not care. Near the end I had about 80 pages left and it took me weeks to get through that.
I was sad that I didn't like it. Unfortunately I won't be continuing the series.
In Short…
While the concept was really unique, the big info dumps really dragged it down. I felt like not much happened in the book and very much did not like the love triangle. I was really disappointed this just wasn't for me!
Did you read this? What did you think?
Related Posts