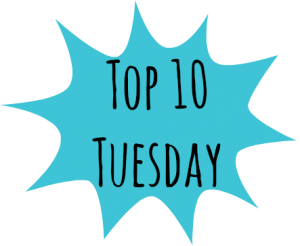 Top Ten Tuesday is a weekly bookish meme hosted by The Broke and the Bookish!
When I was younger ALL I read was fantasy. That was my first genre love. It is still what I love best. And yet, there are some fantasy titles I CANNOT believe I still haven't gotten to. It's terrible. I will be getting to these as soon as possible! (Especially since these will work great counting toward the #FlightsofFantasy challenge!)
1. The Burning Sky by Sherry Thomas: I even met Sherry Thomas at a Fierce Reads event! I don't know why I haven't started this series yet!!
2. Graceling by Kristin Cashore: This sounds epic. I've got to get to this.
3. Fire and Thorns trilogy by Rae Carson: I've also met this author. I also think I'd love this series. What is wrong with me?? No idea why I haven't started this yet.
4. Percy Jackson and the Olympians series by Rick Riordan: I guess what I was worried about slightly with this series is that it would read too MG for me? On the other hand, I've seen raving reviews from people I trust so… it must be good! Oh and I own the whole series. 🙂
5. Midnight Thief by Livia Blackburne: I was DYING for this to be released, I couldn't wait! I read the prequel novella and was so excited and now? Still haven't read it.
6. Froi of the Exiles by Melina Marchetta: I actually read Finnikin of the Rock before I started blogging and LOVED it. Then when I started blogging I discovered SO many books and somehow never got around to continuing this amazing series!
7. The Winner's Curse by Marie Rutkowski: When this released last year I wanted it SO badly. Jessica at Lovin' Los Libros gifted it to me for Christmas (thank you!!) and now I need to finally read it!
8. The Bone Season by Samantha Shannon: I'm really intrigued by this one! I've seen some love it, some not, but I've wanted to read it for awhile! I even own a copy!
9. The Falconer by Elizabeth May: The cover is freaking gorgeous. I was dying for this one so much that Betty at Book Rock Betty was nice enough to get me a copy from ALAMW LAST year. Yeah. LAST year. I still haven't read it. Ugh! Why! I need to!
10. Alanna by Tamora Pierce: WHY IN THE WORLD haven't I read Tamora Pierce yet?! And I call fantasy my first love?!
This whole list has made me feel ashamed of myself. I'm remedying this situation ASAP, trust me!!
What are some books you can't believe you haven't read yet?
Related Posts