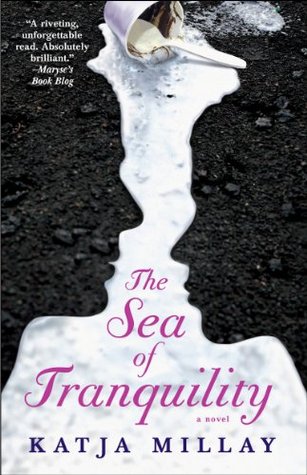 The Sea of Tranquility

by Katja Millay
Published by Simon and Schuster on June 4th 2013
Genres: Coming of Age, Contemporary, Fiction, Romance, Young Adult
Pages: 428
Format: Paperback
Source: Gifted
Buy on Amazon|Buy on Barnes and Noble
Goodreads


I live in a world without magic or miracles. A place where there are no clairvoyants or shapeshifters, no angels or superhuman boys to save you. A place where people die and music disintegrates and things suck. I am pressed so hard against the earth by the weight of reality that some days I wonder how I am still able to lift my feet to walk.

Two and a half years after an unspeakable tragedy left her a shadow of the girl she once was, Nastya Kashnikov moves to a new town determined to keep her dark past hidden and hold everyone at a distance. But her plans only last so long before she finds herself inexplicably drawn to the one person as isolated as herself: Josh Bennett. Josh's story is no secret. Every person he loves has been taken from his life until, at seventeen years old, there is no one left. When your name is synonymous with death, everyone tends to give you your space. Everyone except Nastya who won't go away until she's insinuated herself into every aspect of his life. But as the undeniable pull between them intensifies, he starts to wonder if he will ever learn the secrets she's been hiding—or if he even wants to. The Sea of Tranquility is a rich, intense, and brilliantly imagined story about a lonely boy, an emotionally fragile girl, and the mira­cle of second chances.
Why Did I Read?
I've been meaning to read this since FOREVER. I had heard nothing but great things!
My Thoughts:
How do I write this review? This is one of those books that I know I'm going to want to reread. I'm sitting here, wondering how to put into words how amazing this book was. I feel like nothing I say can adequately express just how much I adored it and how amazing it is.
Nastya and Josh. The story is told in their alternating POVs, showing us how each of them have had a pretty tragic past. Well, in Nastya's case, we know something huge happened but don't get the whole story right away. Nastya is a brusque character. She dresses all in black, purposefully dresses inappropriately and turns her I-dare-you-to-say-something face to the world. Despite her prickly exterior, I came to LOVE her. Read it and you'll understand.
Josh. Josh Fucking Bennett. This boy!! Every single person he has loved has been taken away from him. I mean, that alone broke my heart!! He doesn't let that consume him though. He reaches out to Nastya when everything she projects screams for people to leave her be. But it's with him that she finds a bit of peace and he sees her underneath the heavy makeup. They find solace in his garage as he makes beautiful furniture and wood pieces and Nastya helps him sand. It sounds boring but no! Every single thing they do is written so well and each time they're together is amazing. Josh has so many awesome quotes that I adored and I dog earred that book to death. (I never used to be a dog earer but when my emotions overwhelm me, dogearring happens.)
I really don't know how to put into words how much I loved these two and seeing them together. There are books when the writing is so beautiful and brilliant that the characters come to life and this is one of them. Even the secondary characters are amazing and I LOVED them too. (Drew made me laugh so much and Clay — a minor character and yet just as real as the main ones!)
In Short…
I may be the last person ever to finally read this but if I'm not — don't be like me. Don't wait. Go. Buy. Read. The Sea of Tranquility is an achingly beautiful story about two people with tragic pasts that come together and start to heal. This book made me laugh but it also broke my heart. It pulled me in and it branded these characters onto my heart. And the ending? The ABSOLUTE best. I cried. And I loved it. Read it, read it, read it!
My Rating: 
Related Posts