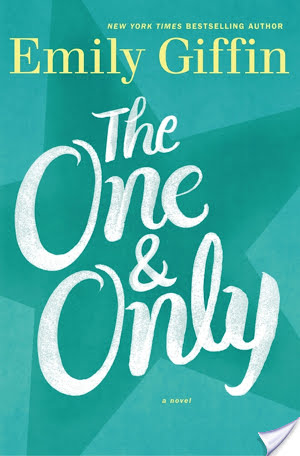 The One & Only

by Emily Giffin
Published by Random House Publishing Group on May 20th 2014
Genres: Contemporary, Fiction, Romance
Pages: 432
Format: Hardcover
Source: Library
Buy on Amazon
Goodreads


Emily Giffin, the beloved author of such novels as Something Borrowed and Where We Belong, returns with an extraordinary story of love and loyalty—and an unconventional heroine struggling to reconcile both.   Thirty-three-year-old Shea Rigsby has spent her entire life in Walker, Texas—a small college town that lives and dies by football, a passion she unabashedly shares. Raised alongside her best friend, Lucy, the daughter of Walker's legendary head coach, Clive Carr, Shea was too devoted to her hometown team to leave. Instead she stayed in Walker for college, even taking a job in the university athletic department after graduation, where she has remained for more than a decade.   But when an unexpected tragedy strikes the tight-knit Walker community, Shea's comfortable world is upended, and she begins to wonder if the life she's chosen is really enough for her. As she finally gives up her safety net to set out on an unexpected path, Shea discovers unsettling truths about the people and things she has always trusted most—and is forced to confront her deepest desires, fears, and secrets.   Thoughtful, funny, and brilliantly observed, The One & Only is a luminous novel about finding your passion, following your heart, and, most of all, believing in something bigger than yourself . . . the one and only thing that truly makes life worth living.
I'm really sad that this book wasn't for me. It certainly sounded like it was meant for me. I adore football with an undying passion just like Shea — but more NFL and less college. But the love is the same. Anyway, I'll outline some of the things I didn't like about it and why I DNF-ed — although, technically I skimmed through most of it and did read the end.
So, Coach Carr is introduced as this legendary, amazing coach. Someone everyone looked up to and everyone loved. Shea is best friends with the coach's daughter, Lucy, and she is there for her as a death shakes their town — the death of Lucy's mom and the Coach's wife, Connie, who the town also loved. So…I was not prepared for Coach Carr to be the love interest. It's not the age thing. It's more the fact that Shea and her best friend Lucy basically grew up together. Coach Carr was like a father figure to her, especially since hers was absent for most of her life. She lived with them for a period of time when her mom was at a treatment facility — not for that long, but… still. I mean, even look at the synopsis! "Raised alongside her best friend Lucy". RAISED ALONGSIDE. See what I was struggling with now? In my mind, he was painted as a father figure and having him thrown into a romantic light? I couldn't get behind it. It just kind of made me uncomfortable to read. Maybe the author was going for a true love conquers all/ love is found between unlikely people at unlikely times / you can't help who you love type thing but it did not work for me.
So that was my big hang up. A lot of other big issues were addressed in the book which was definitely interesting and the football side was a huge bonus but with the central romance the above? I couldn't.
While this book was not my cup of tea, I know others who have really loved it. I, however, was sad that it was not for me.
Anyone have other football book recs for me to get me through the off season?
Related Posts