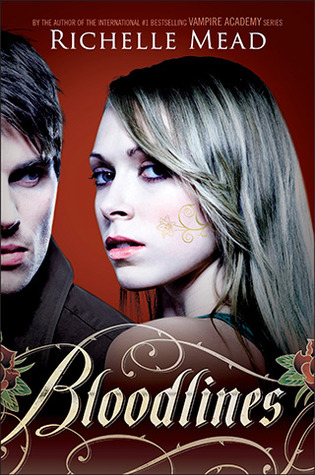 Bloodlines

by Richelle Mead
Published by Razorbill on 2011
Genres: Fantasy & Magic, Friendship, Love & Romance, Paranormal, Young Adult
Pages: 421
Format: Hardcover
Source: Gifted
Buy on Amazon
Goodreads


When alchemist Sydney is ordered into hiding to protect the life of Moroi princess Jill Dragomir, the last place she expects to be sent is a human private school in Palm Springs, California. Populated with new faces as well as familiar ones, Bloodlines explores all the friendship, romance, battles, and betrayals that made the #1 New York Times bestselling Vampire Academy series so addictive--this time in a part-vampire, part-human setting where the stakes are even higher and everyone's out for blood.
I love binge reading because I love being transported and being completely immersed in a story and world — so much so that it takes over your life and you forget to eat and pee and other important life things. I love living and breathing nothing but those characters and their story. It's a fantastic escape!
In the aftermath of Superbowl 49, where my heart was ripped out and left in bloody pieces on the half yard line, I needed something to keep my mind from reliving the awful final seconds of that game. (I'm serious, Sunday night, I woke up in the middle of the night from haunting dreams of the Superbowl and was really depressed.) I was in Mexico during this time and I had brought the first two books of the Bloodlines series by Richelle Mead with me on the trip and hoped it would do the trick of taking my mind off it. And yes, yes it did. Adrian Ivashkov picked up the pieces of my football shattered heart and just like that I was living and breathing the Moroi world again. I will still be mourning the loss for weeks and months, maybe until we're back (because we will be!) but for those days, I could live another world.
In fact, I inhaled those two books and bought the next two and had the 5th shipped to my house and I read all five in four days. I'll be doing a separate review for The Ruby Circle (I read it the day it came out in one night!) but a series one for these first five. It'd be too hard to keep them separate in my mind since I read them all back to back! (High fives to those of you who had to wait after each book!! I would've died!)
Anyway. If you didn't know, I LOVED the Vampire Academy series. LOVED LOVED. (I also binged that series in one weekend and it was glorious.) My poor heart broke for Adrian at what happened in VA so I was eager to see him again in this series. But, really, who wouldn't be eager to see him? That boy has snark, banter and the art of tousling his hair down to a T! It was a little weird starting out to be reading in Sydney's POV instead of Rose's. It's different and jarred me until I got used to it and as Sydney character grew in the series, I came to love her. She's almost the exact opposite of Rose in that she deals in facts, logic and thinks things through — but as the series goes on you see that they both are tough and strong and have a good heart.
Things I really enjoyed in the Bloodlines series: the Alchemist side of things. Really cool and interesting to see it, how they work, how umm, creepy they can be, too. I loved that we got to see Eddie again too, and got really excited whenever we see Rose and Dimitri! There's magic and another formerly unknown group that enters the picture and witches and other awesome things that happen.
I cannot stress how much I love this world. I really enjoyed the story lines in the series but this one was more largely focused on Adrian and Sydney's (or Sydrian as most of us lovingly call them) romance than the plot I feel like. I totally had a kick out of how oblivious Sydney was to Adrian's affection but I'm so happy that Adrian is able to find love and happiness for himself. Anyway, I'm not being that specific to any of the story lines in the series because, you know, spoilers and stuff, but just know that I really enjoyed all the characters, LOVED Sydrian, excited to see new groups and new story arcs as well.
However. As much as I enjoyed the series, my heart truly belongs to VA. I've been thinking about it to try and see what the difference is, why I'm more partial to VA or why my heart clings to VA with that much more frenzy but I don't know. I can't pinpoint any exact thing nor can I articulate any reasons. Which seems dumb, right? Don't get me wrong, I adore Sydrian, love how badass Sydney becomes, and how much Adrian matures too, but as a whole, VA rocked me more emotionally and I love it more with a blinding passion.
Of course, that's just me. I still binged Bloodlines and couldn't put it down and I'm so sad it's over. I adored all the characters and I don't want to say goodbye. 🙁
Watch for my Ruby Circle review next. 🙂 If you guys haven't read Vampire Academy, dear Lord, what are you waiting for? It's one of my all time favorite series. And if you have, then this spin off series is a must, because I just couldn't get enough of the world.
Are you a fan of Vampire Academy? Have you also read Bloodlines? Which did you like more?
Related Posts